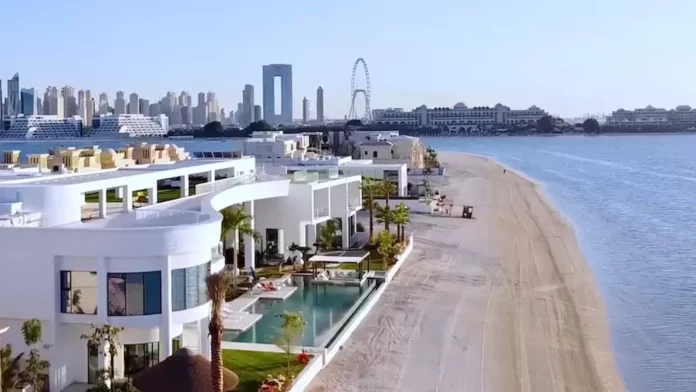 The Ambani family, headed by patriarch Mukesh Ambani, is one of India's most influential and wealthiest business families. With a vast conglomerate encompassing industries like petrochemicals, telecommunications, and retail, their financial success extends beyond imagination. Alongside their business ventures, the Ambani family has invested in numerous luxurious properties worldwide. In this blog, let us have glimpses of the top 10 properties owned by the Ambani family and their children.
Antilia, Mumbai:
Antilia, often cited as one of the most expensive private residences globally, is the primary residence of Mukesh Ambani and his family. Located in South Mumbai, this 27-story skyscraper features opulent interiors, multiple swimming pools, a helipad, and lush gardens, making it a symbol of the Ambani family's extravagance.
Sea Wind is another lavish property owned by the Ambani family, situated in the posh neighbourhood of Cuffe Parade. It is Mukesh Ambani's childhood home and holds sentimental value for the family.
Jio World Centre, Mumbai:
Mukesh Ambani's Reliance Industries is developing the Jio World Centre in Mumbai, which will house the family's corporate headquarters, luxurious apartments, and high-end retail spaces. This project is set to be a game-changer in Mumbai's real estate landscape.
Abode in the Alps, Switzerland:
The Ambani family owns a stunning retreat in the Swiss Alps, providing them with a peaceful escape amidst the picturesque mountains and pristine nature.
Adjacent to the iconic Antilia, the Ambanis own Antilla 2, an additional property for extended family members and guests. It reflects their commitment to providing a luxurious living experience.
The Ambani family owns a luxurious apartment in one of New York City's prestigious residential buildings, allowing them a comfortable stay while visiting the United States.
Beachfront Mansion, Alibaug:
The Ambanis own a beautiful beachfront mansion in Alibaug, a coastal town near Mumbai. This property serves as a serene getaway for the family.
London is another city where the Ambanis have invested in real estate. They own a villa in a prime location, providing them with a home away from home in the UK.
While not a traditional property, the Ambani family's luxury yacht deserves mention. This floating palace offers them the ultimate in sea-bound opulence, perfect for vacations and relaxation.
Anmol, Mumbai:
Anmol is a prestigious residential property in Mumbai's Walkeshwar area, owned by Anant Ambani, one of Mukesh Ambani's children. This property highlights the family's commitment to investing in prime real estate.
The Ambani family's wealth and business success have enabled them to acquire an array of luxurious properties around the world. These properties serve various purposes, from opulent residences to prestigious corporate headquarters and serene vacation spots. As the Ambani empire continues to expand and diversify, their real estate portfolio is expected to grow even further, cementing their status as one of India's most prominent and prosperous families. Isha Ambani is beauty with brain, she owns 50,000 Sq. Ft villa in Mumbai.This villa of Isha worth Rs 500 Crores. She owns many businesses as well. Isha Ambani startups are worth crores. Her net worth price is $100 million.
🔥47