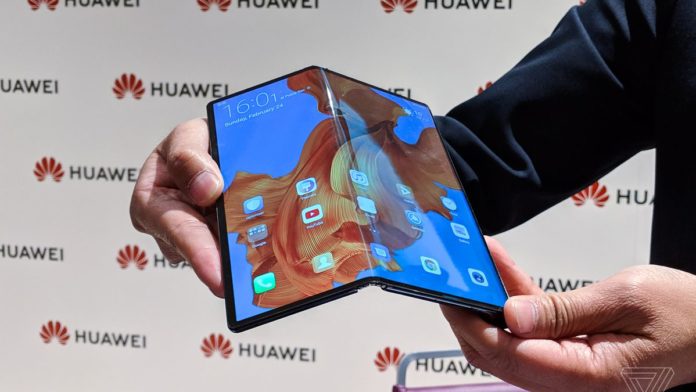 Samsung launched the foldable smartphone at the start of February that makes people go fanatic over it. Following the lead, on 24th February, Huawei was also set to launch their foldable smartphone at MWC 2019 event. However, the phone is leaked a day before the unveiling from the venue only.
The Huawei foldable phones that are famous with the name of Huawei Mate X posters are leaked on the social media of Chinese and is followed up by SlashLeaks. The poster contains a picture of this phone that is folded up between the form factors of the bar. By the look of this whole poster, the Galaxy Fold looks thicker than the Huawei's phone.
In addition to this, there is also a text that says 'World's fastest foldable 5G phone'. As mentioned before by Huawei, the foldable phone will be powered by the 5000 chip of new Balong with 5G support. It also claims that internet speeds of this foldable phone will be better due to 5G modem as compared to the 5G modem of Qualcomm's X50.
The phone will be able to support lower internet network as well including 2, 3 and 4G. Apart from this, the brand also has Kirin 980 chipset in-house that is used in the Huawei foldable phones. If the phone is compared with Samsung, then it runs on the octa-core processor of 7nm 64-bits with the total display of 4.6 inches in cover and s7.3 inch. The Samsung phone is also affluent with a immense price tag.
However, no other details were out but after the launch, many more things about the phone were discovered that makes it even more popular among tech fanatics. MWC 2019 was a gigantic hit after the unveiling of the foldable phone.
🔥697