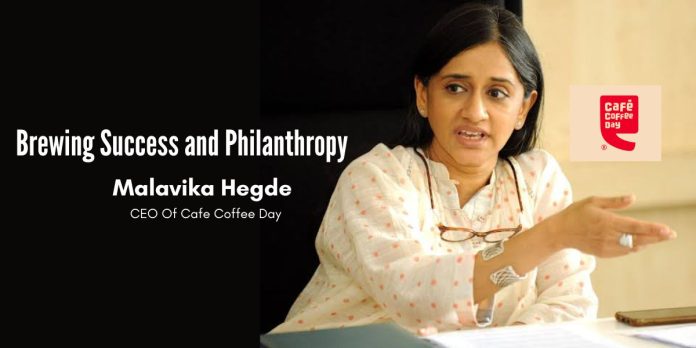 Malavika Hegde is a name that resonates with coffee enthusiasts and business aficionados alike. As the CEO of Cafe Coffee Day (CCD), she has not only steered one of India's most iconic coffee chains but also made significant strides in the world of philanthropy. In this blog, we'll delve into Malavika Hegde's remarkable journey as the CEO of CCD and her equally inspiring forays into philanthropy.
The Rise to the Helm of CCD
Malavika Hegde's journey at CCD is a testament to her resilience, leadership, and adaptability. Born in Chikmagalur, Karnataka, a place known for its coffee plantations, Malavika was no stranger to the world of coffee. However, her journey as the CEO of CCD was far from preordained.
Malavika's association with CCD began when she married V.G. Siddhartha, the visionary founder of the coffee chain. She started her journey within the company in a low-profile role, primarily managing human resources and administration. Her initial responsibilities might have seemed ordinary, but her knack for business and her understanding of the coffee industry were anything but.
When tragedy struck in 2019 with the untimely demise of her husband, Malavika Hegde found herself thrust into the role of CEO. Her transition from a behind-the-scenes administrator to the face of CCD was challenging, but she rose to the occasion admirably. Under her leadership, CCD continued to serve its loyal customers and explore new avenues for growth.
Her ability to adapt to this challenging situation showcased her strong leadership skills, her determination, and her commitment to preserving the legacy of Cafe Coffee Day.
CCD's Journey Under Malavika Hegde
As the CEO of CCD, Malavika Hegde has steered the ship through turbulent waters. The coffee industry in India is highly competitive, with numerous players vying for a slice of the market. However, Malavika has managed to navigate these challenges effectively and keep CCD relevant in the fast-changing F&B landscape.
One of her significant achievements has been the introduction of new and innovative menu items, catering to evolving customer preferences. CCD has expanded its offerings to include a wider variety of beverages and food options, making it not just a coffee destination but also a place for casual dining and socializing.
Furthermore, Malavika has spearheaded CCD's efforts to enhance its digital presence. The brand now boasts a user-friendly app that allows customers to order their favorite drinks and food online, promoting convenience in a digital age.
Her focus on sustainability is also worth mentioning. CCD has initiated various eco-friendly practices, such as using biodegradable cups and implementing waste reduction measures. This commitment to environmental responsibility not only aligns with global trends but also resonates with the socially conscious younger generation.
Read More: Shilpa Shetty's Startup As Business Lady
Philanthropy Of Malavika Hegde Beyond Business Success
While her tenure as CEO of CCD is impressive in its own right, what truly sets Malavika Hegde apart is her dedication to philanthropy. Her commitment to giving back to society is commendable, and she has been involved in several initiatives aimed at making a positive impact on people's lives.
One of the most significant philanthropic endeavors led by Malavika Hegde is the "Siddhartha Vidyarthi Trust." This trust was established in memory of her late husband and seeks to provide quality education to underprivileged children. Education has always been a cause close to Malavika's heart, and through this trust, she has been able to make a tangible difference in the lives of many young individuals.
Additionally, Malavika has actively supported various social and environmental initiatives. She has worked towards improving the living conditions of coffee plantation workers, advocating for fair wages and better working conditions. Her commitment to sustainable agriculture practices has also contributed to the overall well-being of coffee growers in the region.
Furthermore, she has been involved in several healthcare initiatives, particularly in rural areas. Malavika has funded medical camps and healthcare facilities, ensuring that people in remote regions have access to quality healthcare services.
Malavika Hegde's journey as the CEO of CCD is a story of resilience and adaptability. Her ability to lead and innovate in a competitive industry has kept CCD relevant and thriving. Beyond her business success, her commitment to philanthropy is truly commendable. Through various initiatives, she has made a positive impact on education, healthcare, and the environment.
As Malavika Hegde continues to lead CCD and work towards her philanthropic goals, she serves as an inspiration to aspiring entrepreneurs and philanthropists alike. Her story reminds us that business success and social responsibility can go hand in hand, creating a brighter and more equitable future for all.
Malavika Hedge Biography
| | |
| --- | --- |
| Name | Malavika Karishna Siddhartha |
| Date of Birth | 1969 |
| Occupation | CEO of Cafe Coffee Day |
| Birth Place | Bengaluru |
| Education | B.Tech Bangalore University |
| Company Name | Cafe Coffee Day (CCD) |
| Industry | FMCG |
| Headquarters | Bengaluru |
| Website | https://www.cafecoffeeday.com/ |
| Wikipedia | https://en.wikipedia.org/wiki/Caf%C3%A9_Coffee_Day |
🔥21