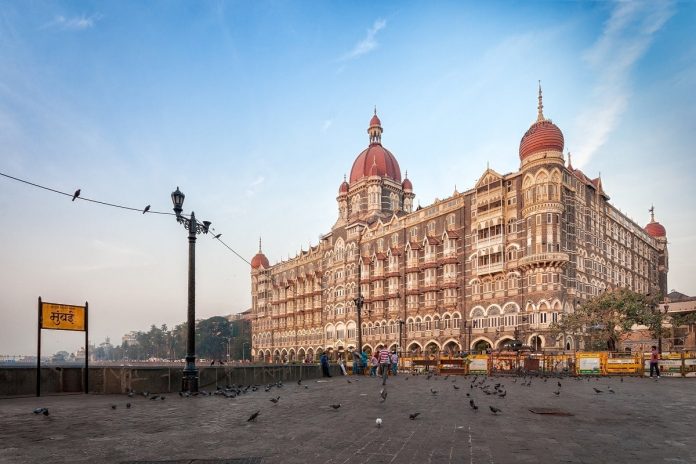 A little boy and the Taj
I must have just turned thirteen. I was flying from Bombay to Zurich to meet my parents for our annual summer holiday, when I met the lovely Ms. Bensoussan. In her late sixties and pearls she sat large and pretty in the seat right next to mine with her bright tangerine handbag. I was an impressionable teenager in my new brown corduroy pants excited about my first flight alone. My parents had left a few days earlier, and were confident their son, now a young man, could make a seven-hour-long flight on his own.
She asked me my name with a laugh and an unmistakably French accent and I began my first ever conversation with a complete stranger on a plane. I felt a sudden sense of responsibility, to speak well and conduct myself like a gentleman.
We began chatting. She had just been to India and was charmed to have a young man sitting beside her. A complete Indophile by now, she began sharing details of her trip with me. Her excitement was uncontained when she learned that I was from Bombay as well.
She had been to Delhi, Agra and Bombay. We spoke largely about Bombay. Its vibe, its energy, that it was one of the greatest cities of the world. I found myself becoming a cultural attaché of sorts. It had indeed been a wonderful city to grow up in. She seemed to know a lot. She spoke of her favourite Irani joint. I had heard of it but never been. It was not too far from school. She had clearly seen places I had not and known histories of the city I did not. But I pretended I knew, nodding gently every now and then.
I asked her what she liked most about her trip to India. That's when she told me about the Taj. She had found it splendid. She spoke about its grand structure, its magnificence and the magnetic tale behind it that had touched her. She had a warm, throaty laughter. And I was the most attentive listener she could ever get.
We had found a connection.
The Taj, after all, was home to me. The Taj in Bombay may have been an institution to some, but it had always been much more to me. It was a place my grandmother loved going to for tea. Dressed in her French chiffons and her pearls. It was where my parents went. Where we came to celebrate all the good things that happened. Where all the good things happened. Where the Sea Lounge was. Where my mother would take us as kids and treat us to cold coffee with ice cream and dahi batata puri. Or perhaps fish and chips. Where the Golden Dragon was. Where my father took us for dinner if we were good. Where I knew they went more often than they told us. Where the Ménage à trois was. A mysterious place I had secretly overheard my parents talking about once. Where the handsome Harbour Bar was. And where the Rendezvous was. A name I liked the sound of, but was scared to spell. The place that housed the Nineteen Hundreds, where I was to go many years later with friends. A rite of passage into adulthood in Bombay. And of course where The Chambers was. Where my father went. And met very important people. He was always in a dark suit when he went there. Where I learned that 'magic' could be on a plate – in a dish called Camembert Dariole. On my first visit to the Zodiac Grill. A place that defined what fine dining meant.
It was the place that housed Nalanda. Where I was treated to many many books. And Le Patisserie. Where I was indulged with ambrosilicious lemon tarts and mutton patties at teatime. And where my mother bought brown bread for our sandwiches. And Gazdar. Where my father took my mother on special occasions. It was almost a ritual. And the Indian Textiles. A store where I held my mother's hand as she carefully sifted through sheets of gossamer Banarasi saris.
It had a lobby that had seen me run and fall in amidst the objets d'art and antiques. Much to the embarrassment of my mother and concern of the in-house staff. The hallowed corridors of the heritage wing, bejewelled with crystal chandeliers had seen me pass the late senior Mr. Tata as a frisky five-year-old in a neat haircut and shorts. He had (possibly) also seen me drop my noodles on the ruby carpeted floor at the Golden Dragon.
It was a place that had seen my childhood. And contributed many a moment to it.
It was where I had my first chopstick moment. An art that I was taught patiently to me at the legendary Golden Dragon. I still remember the highchair that had seen me perched on it not so long ago. We had our favourites – the sweet-corn chicken soup, a steamed fish in chili vinegar, the crispy lamb, some prawns that I never ate and the noodles. And ended our gastronomic fantasy with delicious date pancakes and vanilla ice cream. And as we left the dining room, the staff would graciously say their byes and a pretty hostess in an exotic chinoiserie costume would hand a tall single stemmed rose to my mother and baby sister. A rose that was redder than red, wrapped in crisp cellophane with a white satin ribbon that whispered 'Golden Dragon.' Always a ceremony.
Back on the flight with the lovely Ms. Bensoussan in her white and pink floral dress, with that little bit of history flashing past my mind, we resumed our conversation about the Taj over some giant stems of white asparagus. She asked for Champagne. I asked for Coke.
She laughed as she ate. She had many chins and they moved vigorously with her laughter. I was in awe. We both dug into our salmon and I politely asked her which wing she had stayed in, hoping she would say the heritage one.
She paused. Almost gasped and looked at me as if she had been cheated. "Why, I didn't know, you could stay there!"
"Of course, you can!" I replied bewildered. What was she thinking?
"Oh, have they just started that? Is it something new? I wasn't even aware when I planned my trip to India." She giggled almost nervously.
I didn't quite understand what she meant. I figured something was amiss. "Yes of course, you can stay there," I muttered. "What was your favourite restaurant there?"
"Well, I didn't eat in there at all. I didn't know they had a restaurant."
Our connection had begun to weaken. I think she felt somewhere as well that we were a bit out of sync. We stopped talking for a few moments. Not wanting to give up, I took my last chance. I asked her gregariously what she thought of the history of the Taj, recalling its almost mythical story – a metaphoric victory over the imperialistic powers that once ruled us. My mother had told me about it once over lunch at the Sea Lounge.
The reluctant Ms. Bensoussan answered a bit confused, "Why, but of course it has a beautiful history. Love stories like that are one-of-a-kind and just marvellous. But are you sure, you can stay there? I thought it was a heritage monument that could not be touched. What a shame!"
I kept quiet. And realized what I had been up to.
Here she was talking about one of the biggest wonders of the world, the pride of our country, the Taj, in Agra. And there I was about my own fantasy, babbling away. Panic seized me. I felt guilty. I felt like choking. What had I done? It suddenly seemed like the longest flight of my life, and there I was trapped to my seatbelt. I wanted to run. Knowing I couldn't, I began concentrating hard on the white asparagus drizzled with virgin olive oil. It was tender and juicy, but I had just lost my appetite. The lady with the many chins continued eating but stopped laughing.
I don't remember if we spoke much after that. But we did say our goodbyes once we landed in Zurich. She laughed again, but it seemed to have lost its sparkle. At least that's what I thought. I was en route for an onward ski trip with my parents the same morning and she was meeting some friends in the city. I was hoping she wouldn't bump into my parents on arrival. What if my secret came out?
Looking back fondly and still somewhat guiltily, I often laugh at my foolhardiness. The Taj, my one, had made a massive impression on me at a tender age. Like all grand hotels do.
The Taj was after all, much more than just a hotel.
They say great hotels have always been social ideas, flawless mirrors to the particular societies they service. The Taj continues to be a miracle of luxury living. An architectural feat. In Indo-Saracenic and Moorish spirit with an inimitable Renaissance-style dome. A cultural mainstay. And a gateway to the good life for little children with indulgent parents. It allowed us to take a peek into the finer things of life, from our already ivoried existences.
As I walk into the glorious corridors of the Taj today, it remains all the things it used to be. Still the grande dame. A classic. It is where the ever-elegant Sea Lounge is. Where I still come to with my mother and now treat her for cold coffee and dahi batata puri. On the same table right by the iconic arched windows that overlook the never-ending Arabian Sea. It is where the yellow roses have never looked better. Where each crisp petal has its own tale to tell. Perhaps of our generations.
It is where I now take my father to the Harbour Bar, but he still wins when it comes to taking the tab. It is where the sublime Wasabi is. Which is not just about the delectable sashimi, the white fish carpaccio and the Chilean sea bass. Where we are treated like royalty with custom initialized chopsticks. Where we are guests, but still always at home. It is where The Zodiac Grill is. Where Pratima, my wife, and I have danced to "Moon River" played on the grand piano by Austin between flutes of Dom Pérignon. Where we often end a glorious evening with tumblers of XO in hand on the grand swing by the lust poolside.
It is where we often have the best escapes and staycations. Where I enjoy getting lost along the rhythmic procession of art across the ornate Edwardian-Gujarati columns and balustrades in the Palace wing. Where I get to discover and rediscover the extraordinary art the hotel houses. The Gaitondes and the Aras. And many other masters lost in the oceans of time. Where Sabavala's sailboats are the perfect ode to the unparalleled vistas of the Arabian sea.
It is where anniversaries, birthdays, occasions and non-occasions are spent.
It is where I now go with my wife who is an expecting mother. We still eat the same things on the menu at the Golden Dragon. And at times, I get glimpse of the high-chair that perched me once, knowing in a few years it will serve the fourth generation. As graciously as it has always done.
It has hosted Maharajas, heads of state and celebrities. And little boys. Who have now become men.
The Taj. It is a tradition.
🔥420