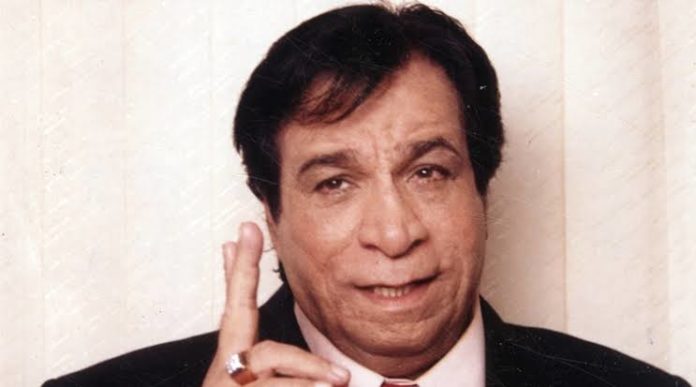 Veteran actor Kader Khan leaves us on the first day of 2019. He was hospitalized due to pneumonia. On 28th February the actor was hospitalized in Canada after he complained of breathlessness. Veteran Bollywood actor-screenwriter Kader Khan passed away on Tuesday at Canada.Kader Khan's son Sarfaraz Khan informed media. He stated,
"Yes, my father has left us this afternoon. He had been unwell and at the hospital in the last couple of days. We tried but it was time.He was a real husband and he loved everybody who had been part of his lifetime "
After having experienced a knee operation that had gone awry, Khan had been not able to walk properly, post that he'd started using a cane to support his motion. Khan was survived by his spouse Hajra, son Sarfaraz, daughter-in-law, and grandchildren. Having Regularly collaborated with Govinda and Anil Kapoor, Kader Khan Has Been Observed in a Ton of David Dhawan Movies in the 90s. He'd acted in over 300 movies and penned dialogues for over 250 films.
Amitabh Bachchan write a tweet for the speedy recovery of Kader Khan.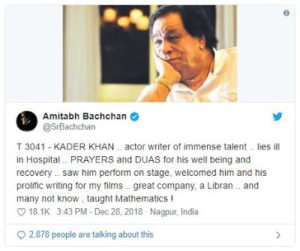 Kader Khan was Born in Kabul, Afghanistan on October 22. Kader Khan was best known for his work as an actor and a writer in numerous films. He has worked with directors like Manmohan Desai and Prakash Mehra. He has featured in over 300 films. Rest in peace to the legend of Bollywood. He was best performer of the industry as a villain, actor, comedian. In 2016 rumors of his death was circulating but his son denies of all these news.He will be alive between us from his tributes and movies.He was a true legend and genuine person.Indian people will remember him for his hard work and dedication.
🔥872