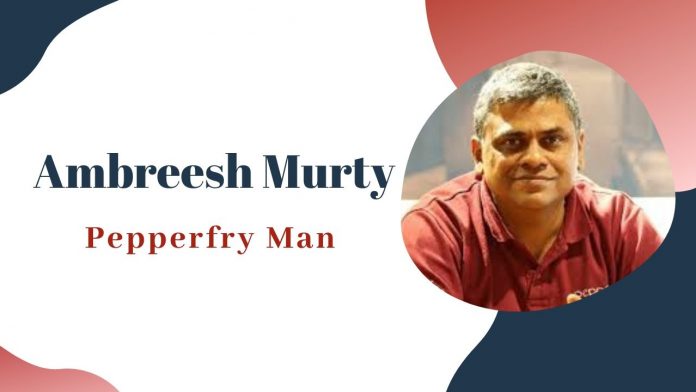 When it comes to overcoming hurdles one after another and yet standing tall, the name that comes to mind has to be Ambareesh Murty. The Pepperfry co-founder and CFO, has been an integral part of this online furniture selling unit since its inception in 2012. After about eight long years, he has been successful in creating a brand image that he had always dreamt of during the initial years.
Highlights of the company
Establishing the brand was always an uphill task in this highly competitive e-commerce marketplace. However, it was the three pillars among the highlights of Pepperfry journey that kept the brand from falling prey to unwanted situations. Those are, namely, brand recall, scalability, and differentiation. Altogether, these aspects kept Pepperfry not only on toes but also helped in achieving their current feat in less than a decade.
Pepperfry CEO Ambareesh Murty's Success Story
Besides, here is a detailed overview of Ambareesh Murty success story that digs deeper into the obstacles that the founder had to face. And after that, it covers some of the latest advancements too.
Ambareesh Murty Boigraphy
Education
Civil Engineering from Delhi College of Engineering (1990 – 1994)
MBA from IIM-Calcutta (1994-1996)
favorite destination
Ladakh
How Pepperfry reached its current position?
The Pepperfry story begins with its launch as an e-commerce platform that lets users browse through apparel, bads, perfumes and furniture, kitchen decor, etc. among many others. However, it was observed that the maximum part of the revenue was generated through the sale of kitchen decor and furniture.
Consequently, the business objective was switched to a complete online store for furniture, kitchen dining, and home decor. Fueling to this decision was the absence of potential competitors in the same domain. As a result, their business outgrew the expectation with which they had started initially.
Later Ambareesh Murty and his team incorporated certain features in the business model that helped them garner more customer base. The features are discussed below –
Main features Behind Success Of Pepperfry
The company offered free delivery for all its items related to furniture. Customers were highly pleased with this step, following which more customers were drawn on to purchasing furniture online.
To ensure customer satisfaction, the online store also introduced a 30 days money return guarantee based on no questions asked. This feature portrayed a sense of confident marketing for Ambareesh Murty Pepperfry. Customers also experienced lesser risks while making a purchase.
After about two years of successful operation, Pepperfry opened its first offline studio. It was named Studio Pepperfry and customers could directly visit the store and get a hands-on experience of the furniture they were supposed to buy online. Later, they also opened another store at Bengaluru, which became listed as one of the highlights of Pepperfry journey.
Pepperfry journey
In another year, they achieved their first milestone in the sales department, when they completed delivering 1 million customer orders. Though it might seem that everything was pre-planned, the reality was way different. Soon after, numerous craftsmen and artisans started dropping by and sharing their interests in using the platform for selling their ideas.
Subsequently, the Ambareesh Murty success story stepped up by gathering over 1000 merchant partners. Out of which, many even professed to have it as their only source of income.
Latest developments in Pepperfry
Pepperfry boats of a wide variety of furniture at its disposal from its broad base of merchants. Amid a crowded marketplace, it believes standing out is the only way to remain relevant among the masses.
The preferences of people are changing, and they are more inclined towards luxurious and innovative yet simple styled furniture. Due to this, Pepperfry founder Ambareesh Murty along with his team now looks up to the local merchants with their innovative designing styles.
They are planning to add up to ten local merchants every month, and it is expected to go up to 150 by the end of this year, 2020. The Pepperfry story does not end here, as its founders are also planning to work on creating catalogues by taking help from the suppliers.
Their main focus is on the retailers or sellers who have a few retail stores or are not available online. Partnering with these merchants is likely to give rise to a symbiotic relationship, wherein the suppliers of small businesses can sell their products by reaching out to a large scale of customers. Simultaneously, Ambareesh Murty Pepperfry can also enrich their business model.
Wrapping up
Altogether, Pepperfry has come a long way since it was launched in less than a decade. Though the revenue in the last fiscal grew by more than 45%, it is expected to rise even further in the upcoming years.
🔥383