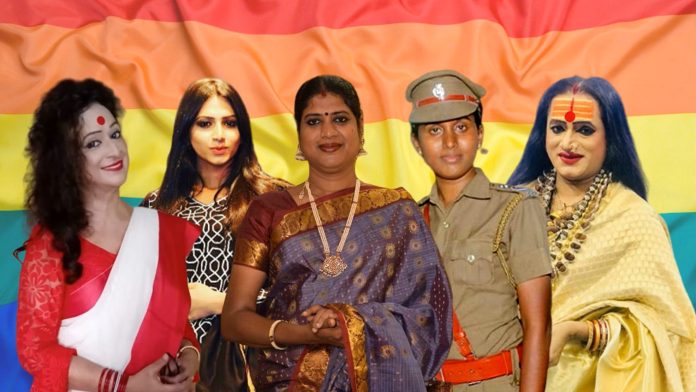 Transgender people have faced biases for decades from the society. They are called names, not given opportunities and are excluded from the mainstream. Many are termed as "impure" which reflects nothing but the apathy we have towards the community. Instead of respecting these people, society looks at them with pity. Nevertheless, they have risen irrespective of all the bigotry and challenges that the social structure creates in their growth, and have made a name across many domains.
Here are fifteen transgender people who are breaking the barriers and have proven their mettle in their respective fields.
Gauri Sawant
Gauri Sawant has fought immensely for transgender rights. She fled her home at the age of 18 as she did not want to be a disappointment to her father. She stepped into activism and after years of struggle, she is currently the director of Sakshi Char Chowghi trust that runs to provide counseling and assistance to trans people and those with HIV/AIDS. She was one of the petitioners in the case that recognised transgender as the third gender. She is serving as the Goodwill Ambassador of Election Commission in Maharashtra. Gauri has an adopted daughter, Gayatri whose mother was a sex worker and died when she was just four years old.
Laxmi Narayan Tripathi
Assigned male at birth, Laxmi Narayan Tripathi is one of the most influential transgender people. She is a Bharatnatyam dancer and an activist currently based in Mumbai. Unlike other parents who refuse to accept their children when they came out as a trans person, Tripathi's parents accepted her when she came out as a transgender woman. She is the first transgender person who represented Asia Pacific in the UN in 2008. She worked with several NGOs before starting her own organisation, Astitva in 2007 which caters to raising a voice for the sexual minorities. Laxmi has also featured in reality TV shows as a special guest and has never missed an opportunity to speak for the LGBTQ+ community.
Sathyasri Sharmila
Sharmila registered as Tamil Nadu's first transgender lawyer in 2018. Finishing her law degree in 2007, she waited for over a decade before she gained the confidence to register herself as a lawyer which was solely to help her community to rise against the atrocities they have been facing for years now. She worked as a transgender activist for all these years. She is one of the very few trans people in India to be registered as a lawyer.
Shabi Giri
Working as an Indian Naval Officer, Shabi was dismissed from her job after the sex reassignment surgery that made her a transwoman. She had never felt like a man all her life and was mentally harassed when she got the transplant done She has alleged that she was kept in the psychiatric ward and the doctors tried to prove that she had some mental illness. She is still fighting the legal battle to reclaim her position.
Dr Manabi Bandopadhyay
She is India's first openly transgender college principal. Born as the only son among two sisters, Manabi was oppressed by her conservative father and fought a long battle. She is West Bengal's first transgender to complete a Ph.D. and become a lecturer. She started Oh-Manab in 1995, a magazine specifically for the hijra community. She never let her education be deterred by the ridicule she faced as she knew knowledge was the weapon to fight against the stereotypes.
Padmini Prakash
She has scripted history by becoming the first trans woman news anchor of Lotus News, a local Tamil channel. Ostracized by her family at the age of 13 because of her identity, she was taken in by a family who were friends with her parents. She later married a guy from this very family who has supported her ever since. The two have an adopted son. Padmini has acted in various soap operas and has won a few beauty pageants as well. Other than this, she is a classically trained dancer and has taught Bharatnatyam too.
K Prithika Yashini
She is the first transwoman to become a police officer in India. Currently serving as a sub-inspector in a Tamil Nadu district, the fight for becoming an officer was not easy as her application was rejected because of her gender. However, K Prithika Yashini challenged the rejection and fought a legal battle in the Madras High Court. She subsequently cleared the required tests and was given the job she was entitled to. Prithika had to run away from her house as she was tired of her parents who had sought medical, astrological and religious help to "set things right".
Joyita Mondal
In 2017, Mondal became the country's first transgender person to be appointed as a judge in a Lok Adalat. She always raises a voice for people of her community and has been appealing to the government for reservation for trans community people in jobs. She dropped out of school and ran away to Siliguri from Kolkata, her hometown. She had to sleep at bus stands and beg on the roads for food. After living on the streets, she landed in Islampur where she worked for the upliftment of the transgender community. She now runs her own organisation, 'Dinajpur Notun Alo' (Dinajpur new light) that works for the welfare of people from the community.
Nitasha Biswas
Biswas is the winner of the country's first-ever trans beauty pageant. She was abandoned by her family but this did not hamper her from pursuing her dreams. She started a career in modelling. She had no one by her side while she went through the Hormone Replacement Therapy (HRT), which is mentally as well as physically straining. She then went on to work as a stylist and makeup artist. She won the pageant in 2017 and then represented India in Miss International Queen and Miss Trans Australia 2019.
Shabnam Bano
Known as Shabnam Mausi, she is the first transgender Indian to be elected to the public office. Despite attending primary school for just two years, she knows twelve languages through her frequent travels around the country. She has inspired her community to challenge the roles they have been performing for years by walking into politics. As the first trans MLA of India, she has been focussing on eradicating corruption, poverty, hunger and unemployment from her constituency.
Madhu Bai
After the decision of legalising the third gender, Madhu Bai Kinnar won the position of the mayor of Raigarh, Chattisgarh. She emerged victorious with over 4,500 votes after contesting in the elections. Madhu, who has been an active spokesperson for gender equality, pledged to fight against discrimination with her power.
K. Prithika
Being a police officer in India is not an easy task. In such a rat-race, K. Prithika Yashini fought her way through the system to get the job of a sub-inspector. She had been rejected continuously due to discrepancy in her birth certificate. However, her struggle and determination reached the ears of the Madras High Court which then ordered the Tamil Nadu Uniformed Services Recruitment Board to hire her immediately.
Kalki Subramaniam
Kalki Subramaniam is a trans rights activist and has led the way by being a successful entrepreneur. She was the first trans woman to star as a lead in an Indian movie. She runs an NGO called Sahodari Foundation which works for the welfare of the trans/intersex community. Through her thoughts, actions and never-say-die attitude to life and the many adversaries that have come her way on account of her decision to live as a transwoman, Kalki has transformed herself into a role model for the transgender community, many of whom still live a marginalised existence on the fringes of society.
Bobby Darling aka Pakhi Sharma
Her life story is an inspiration for not just her kind of people, but also for everyone. It is a demonstration of her invincible spirit and a sprint to have a normal life just like others. Having achieved the pedestal of being the country's first transgender businesswoman, her life journey was not a cup of tea. In spite of being born to loving parents, her life was no less than struggle owing to her identity. Her gender bolded the lines of difference between her and other people, but she never deviated from her goal of showing this world that she is no less than anyone else and deserves equal respect as others. Making education as her armor, she protected herself from the negativities and pain afflicted by the people on her. Today, she has double masters' degree in Mass Communication and International Relations and is renowned as an impeccable transgender entrepreneur worldwide.
A. Revathi
She is the author of books Unarvum Uruvamum and The Truth About Me. In fact, the latter has been included in the syllabus for third gender literature at the American College of Madurai. A. Revathi is a writer, actor and activist based in Bangalore. She works with Sangama, a sexuality minorities human rights organization for individuals oppressed due to their sexual preference. She is the author of Unarvum Uruvamum (Feelings of the Entire Body); and her autobiography, The Truth about Me, is the first of its kind in English from a member of the hijra community.
🔥41