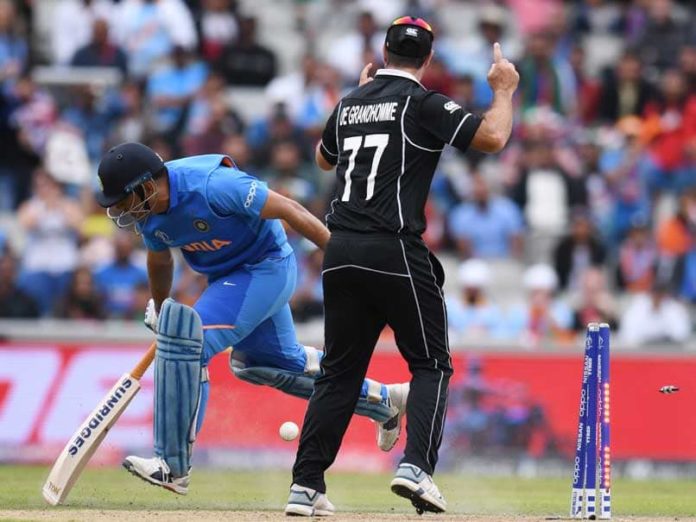 World cup semifinal result was shocking for Indian people. Indian cricket team was performing very well through out the CWC 2019 matches. India was facing New Zealand in the semifinal. But the rain washed out the whole match. New Zealand scored 240 in the semifinal 2019.
As all know MS Dhoni was the hero of the match. His coordination and managing skills helped India to reach 221 with the help of Ravindra Jadeja. MS Dhoni was run out in the match. Indian players are not happy with the tweet of ICC related to wicket of dhoni.ICC created a short video on run out of Dhoni and fans are showing their anger on this tweet.
ICC write in the tweet "Hasta la vista, Dhoni" and used some graphics to represent the situation in a dramatic way.
Hasta la vista, Dhoni 🎯 #CWC19 pic.twitter.com/TWxbKULjCQ

— ICC (@ICC) July 10, 2019
Now see what fans of MS Dhoni are reacting on this tweet.
What about this ? pic.twitter.com/jp1d3lL93M

— PriyamudanLachu (@Lachu205) July 10, 2019
ICC delete this – pic.twitter.com/MBcndA9FAy

— Pranjul Sharma (@Pranjultweet) July 10, 2019
We need an answer @ICC 😑 pic.twitter.com/neVby2Z3aW

— 𝕷𝖎𝖓𝖟-𝕮𝕾𝕶𝖎𝖆𝖓♥💛♥ (@Linz0425) July 10, 2019
Dhoni was playing like a wall for India. Where the people was expecting to run out India in 50 runs, Dhoni and jadega stole the match.They played a very well and organized match against the New Zealand.
🔥275