Sushant singh rajput's death is a new controversy in Bollywood. The actor hanged himself in his bandra apartement. Sushant singh was one of the youngest actor in Bollywood. He was at the peak of his career.He was new face of industry.For his fans and family he was doing well in professional level.But Sushant's suicide is another face of his life.He was suffering from depression or something was not right with him.According to statements of his co-workers and guards he was behaving weird.Everyone is paying contribute to sushant's death but some people are pointing out his condition and mental trauma.Now statements of his friends and colleagues are staying that Bollywood industry was not accepting him as a star.He was alone in the crowd of Bollywood stars.
A post about his fight or we can say argument with some of the known personalities of bollywood is going viral on social media.The post state that big brands and producers of bollywood are not ready to work with sushant.
The statement of kangana on Sushant Singh Rajput Death "It is important to give talent their due. And if celebrities are struggling with personal and mental health issues, the media should try and emphasize with them, rather than making it difficult for them!"
Meera Chopra was apologies on social media for the cruality of bollywood industry towards Sushant Singh Rajput
Vivek Oberoy said "I was in the same pain which Sushant singh rajput was dealing.But I decided to survive".Vivek oberoy shared a note on his social media handle describing the whole incident of Sushant Singh Death and depression.
Even Sushant singh Rajput stated the same to one his fan that "Watch my movie.I don't have any god father in the industey .My fans are my support only".Rest is still a mystery the post and photos shared by Sushant on social media have deep meaning and thoughts.He was not happy with something.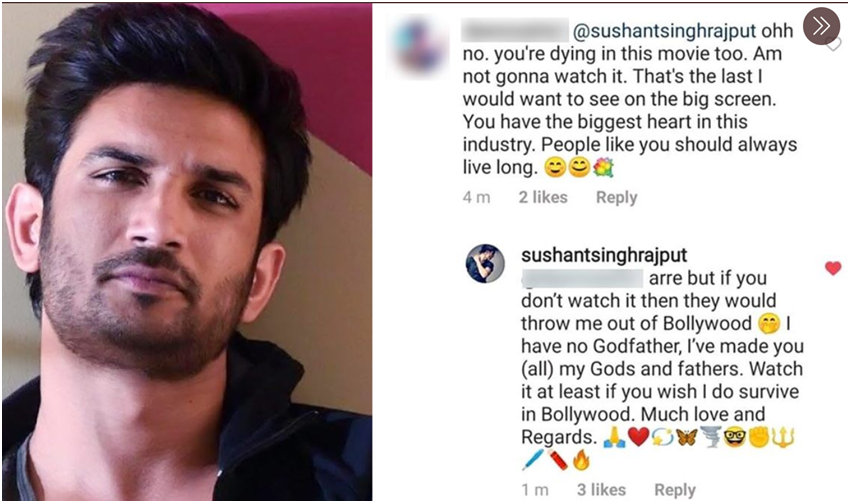 A post on social media is going viral about the boycott of Sushant singh rajput from the industry. The post was shared by Krkboxoffice.We are not sure about the reality of the post.It may be a edited post.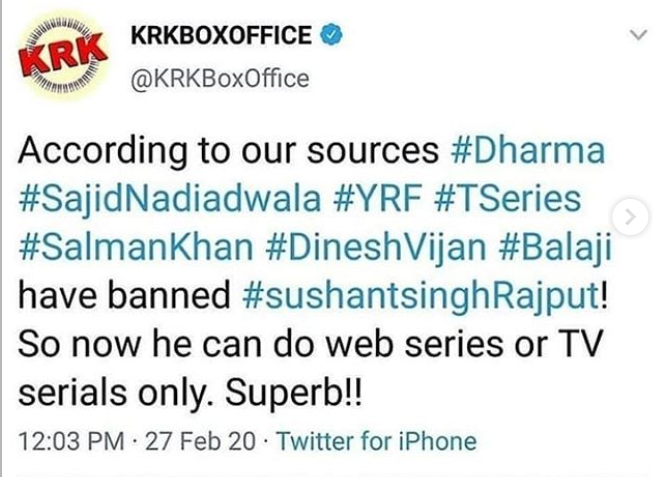 A new trend on twitter is running for nepotism of bollywood industry.Karan johar and alia bhatt are facing lashes for this cruel reality of the bollywood industry.Even Babita Phogat shared a tweet in favour of #boycottingkaranjohargang
The harsh reality of Sushant Singh Rajput's death and brutal truth of his pain is a mystery.His family demand for CBI enquiry and police is performing all the necessary investigation to find the truth.
Sushant singh rajput was self made actor in bollywood. His journey from television to bollywood was full of stardom.Every one knew him about his positive nature and energy. Suicide of this youngest star is a loss for his fans and family.We wish we can stop him.Rest In Peace Sushant Singh Rajput.
🔥551