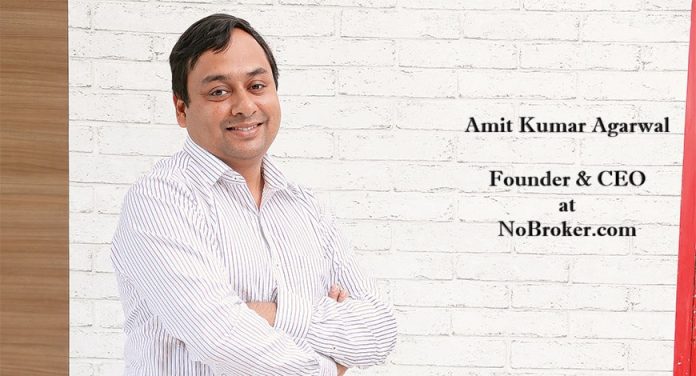 From IIT Graduate to Real Estate Disruptor, this case study examines the journey of Amit Kumar Agarwal, the CEO of NoBroker, a technology-driven real estate platform that has disrupted the traditional real estate brokerage model in India. The case explores Agarwal's background, the founding and growth of NoBroker, its business model, key strategies, challenges faced, and its impact on the real estate industry.
Amit Kumar Agarwal is the co-founder and CEO of NoBroker, an Indian startup that has transformed the real estate industry by providing a platform for users to buy, sell, and rent properties without involving traditional brokers. Agarwal's innovative approach has not only challenged the conventional norms of real estate transactions but also contributed to the creation of a more transparent and efficient property marketplace.
Amit Kumar Agarwal graduated from the Indian Institute of Technology (IIT) Bombay and later pursued a master's degree from Stanford University. Prior to co-founding NoBroker, he gained valuable experience in the technology sector, working with companies like IBM Research and Nvidia. His exposure to cutting-edge technologies and data analytics played a crucial role in shaping NoBroker's disruptive approach.
Founding and Growth of NoBroker
NoBroker was founded in 2013 by Amit Kumar Agarwal, along with his co-founders Akhil Gupta and Saurabh Garg. The motivation behind the startup was to eliminate the intermediaries in real estate transactions, such as brokers, and provide a direct platform for property owners and seekers to interact. The platform uses advanced algorithms, machine learning, and AI to match property requirements with listings, thus facilitating seamless transactions.
Business Model and Key Strategies: NoBroker's business model relies on a subscription-based approach, where users can choose different subscription plans to access various services such as property listings, tenant verification, and other value-added features. The platform also employs a freemium model, allowing basic access to listings for free while charging for premium services. Agarwal's strategic focus on monetizing value-added services has contributed to NoBroker's revenue growth.
Also Read: For the 1st time in real estate, Bhutani Group offers an advance return offer
The company's key strategies include:
Cutting Out Brokers: NoBroker's core value proposition is the elimination of brokers, reducing transaction costs and enhancing transparency.
Technology-Driven Approach: The platform's algorithms and data analytics provide personalized property recommendations, improving user experience.
User Education: NoBroker emphasizes educating users about its model and benefits, as users need to adapt to a broker-free transaction process.
Expanding Services: NoBroker has expanded its services to offer property management, home loans, and other related services, creating a comprehensive real estate ecosystem.
Challenges faced during the journey
Industry Resistance: Traditional brokers felt threatened by NoBroker's disruption and occasionally engaged in anti-competitive practices.
User Adoption: Convincing users to adapt to a broker-free model required significant user education and building trust in the platform's capabilities.
Regulatory Hurdles: The real estate industry in India is regulated by multiple authorities, and NoBroker had to navigate legal challenges to ensure compliance.
Profound impact on the real estate industry
Disruption: NoBroker has challenged the status quo, prompting traditional brokers to reconsider their value proposition.
Transparency: The platform has increased transparency in property transactions, reducing the opacity often associated with broker-mediated deals.
Efficiency: By directly connecting property owners and seekers, NoBroker has streamlined the process, making it quicker and more cost-effective.
Technology Adoption: NoBroker's use of advanced technology has paved the way for greater technological adoption in the real estate sector.
Also Read: Opportunities For Investment In The Digitized Real Estate Sector On The Back Of Modern Technology
Amit Kumar Agarwal's journey as the CEO of NoBroker highlights how innovative thinking and the integration of technology can reshape traditional industries. NoBroker's success story is a testament to the potential for disruption and transformation through a commitment to customer-centric solutions, transparency, and the strategic use of technology. Amit Kumar Agarwal's leadership in challenging the norms of the real estate industry demonstrates how innovation can lead to significant positive changes in established sectors.
🔥47