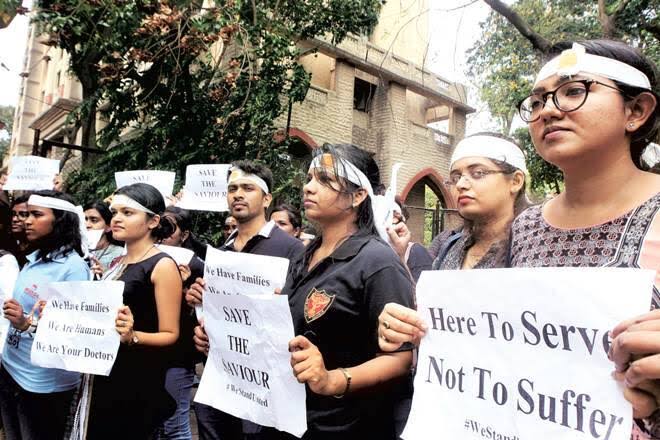 Doctors Protest in West Bengal
Doctors from Delhi's All India Institute of Medical Sciences (AIIMS) gave 48-hour ultimatum to West Bengal Chief Minister Mamta Banerjee on Saturday. The Resident Doctors Association told the news agency,
"We have given 48 hours ultimatum to Chief Minister Mamta Banerjee, Chief Minister of West Bengal. We demand that demands of doctors should be accepted; otherwise, we will all go on an indefinite strike. "
Earlier, the Indian Medical Association (IMA) had called a nationwide strike on 17th June with a nationwide protest starting from June 14 for three days. The IMA demanded a law to investigate the violence against doctors in hospitals. The organization says that those who violate it should have a minimum sentence of seven years in prison. In Bengal, so far 300 doctors have resigned, in which 175 doctors of the SSKM Hospital in Kolkata have resigned collectively.
Joint by doctors' Forum spokesman Dr. Arindam Dutta has placed six conditions before CM Banerjee to withdraw the strike.
• CM Mamta Banerjee should apologize on the statement given to doctors
• A statement should be issued condemning the attack on doctors.
• Police inactivity should be investigated
• Action should be taken against those attacking doctors
• False charges against junior doctors and medical students should be withdrawn
• Armed policemen should be deployed in hospitals
Earlier, the strike that started after the incidents of violence against doctors in West Bengal got support from the country on Friday. Doctors from Delhi, Maharashtra, Rajasthan, Punjab, Madhya Pradesh, and Bihar protested. The Delhi Medical Association announced the closure of the day.
In fact, on June 11, at junior doctors of NRS Medical College in Bengal, there was an assault. Since then doctors have been protesting. Chief Minister Mamta described the strike as a conspiracy of BJP and CPI (M) on Thursday. He also warned doctors not to end the strike but to take action. So far, 300 doctors of several hospitals including 95 doctors of RGC Medical College, Kolkata, 119 from North Bengal Medical College and 18 doctors of Sagar Dutta Medical College in Darjeeling have resigned. They say that they cannot work in an atmosphere of violence and threats.
Doctor Protest Bengal :Demonstration at these places
Doctors of Jaipurpuria hospital in Rajasthan tied black band at hand to do duty. Doctors of the Nizam Institute of Medical Sciences in Hyderabad took out a protest march Resident doctors of Dr. Bhimrao Ambedkar Hospital in Raipur performed with the slogans of 'We Want Justice'. Members of Indian Medical Association Trivandrum in Kerala also protested. The Doctor of Government Medical College, Nagpur also performed. In Delhi, protesters continue to protest.
Factual Data of Bengal Doctor Protest
There were 32 cases of workplace violence in AIIMS in 2013 and 2014.
Violence against doctors is becoming a new criterion, not only in India but in many other countries including USA, UK and China.
A recent survey of over 3,500 emergency practitioners across the US found that nearly half of the doctors physically assaulted the job.
 In 2011, a 10-province survey in China found that in the past 12 months, more than half the physicians abused orally, one-third were at risk, and 3.4% were physically assaulted by patients.
In the United Kingdom, in addition to increased safety, there are training courses in conflict solutions for medical profession
🔥318