What's app new feature voice recording
it is changing its feature continuously to upgrade it. What's app new feature voice recording is all about voice calling. Things are getting easy day by day to sort the user convenience. The new feature is launched for google play beta program and updated version 2.18.123. It will increase the possibilities of securing the voice call data.
Currently 1.5 billion user are using what's app for the instant messaging services .What's is revamping its services and feature to make it user friendly, After implementing the possibility to not lose a voice message on the IOS version.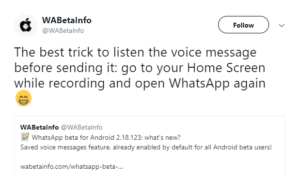 How will what app new feature works?
Normally when a user used voice recording feature he was not able to exit the chat. From now onward if you are recording a message and suddenly got a call or may be battery is about to die. What's app will save the message automatically and there is no need to record it again.
For listening the voice message user can directly go to home screen for the message. Meanwhile, WhatsApp has updated its 'Terms of Service and Privacy Policy' ahead of General Data Protection Regulation (GDPR) that comes into effect in Europe on May 25.
The Facebook-owned messaging app is one of the most popular and widely used applications on both Apple and Android smartphones. After pressing and holding the icon for only 0.5 seconds, senders can then swipe up to 'lock' the recording
🔥146