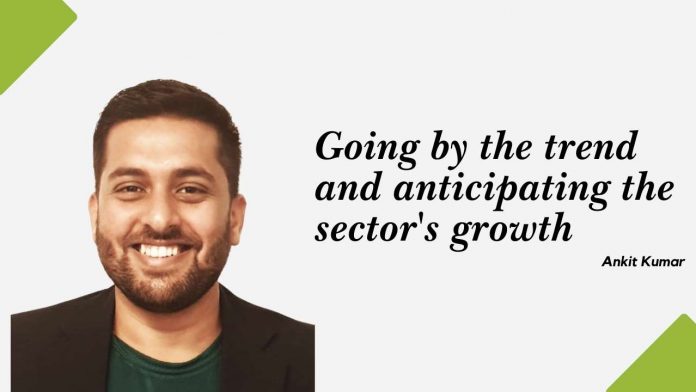 India's first interactive English learning app for pre-school kids "OckyPocky" has recently received investment from Mr. Ankit Kumar through Lead Angels Network.This innovative EdTech start-up is founded by ex-YouTube India head and it has carved its own niche already.
OckyPocky endeavors to change the way over 160 million preschool kids learn, starting at age 2. Language is a key skill that kids start learning, but many of them in Tier II and Tier III towns lack access especially to early-stage English language learning solutions. Existing internet content is often unsafe for them. OckyPocky as a platform aims to help prevent this by providing a safe and an interactive alternative! The focus on true personalization with mother tongue is their key strength. Hindi and Marathi users are loving it every day.
Commenting on the recent investment in OckyPocky, Mr. Ankit Kumar, Managing Partner, Alternative Global said, "We have recently finalised the investment process with OckyPocky. OckyPocky is an interesting app. It provides English language learning, powered by speech recognition technology. The app, developed and designed for India with a focus on vernacular languages, personalizes the learning experience for kids by using natural language processing and artificial intelligence.
We were keen on investing in this space as EdTech has a bright future and is the current market trend. It is anticipated to reach $1.96 billion by 2021; India has a current user base of around 9.6 million. Going by the trend and anticipating the sector's growth we felt the time is just apt for to invest in this niche."
On receiving the recent funding Mr. Amit Agrawal, Founder, OckyPocky said "We are happy to have investors like Ankit Kumar on board and we are confident to grow rapidly as the market is very accepting and favorable at the moment. With the current tailwinds OckyPocky too is gaining momentum and will be using the current round for marketing activities and R&D to further better the product and offerings. We will continue to bring great experience for the skills that matter to Bharat and create a better foundation for our Tier 2, 3, 4 underserved market."

Researches indicate Preschool kids in the age of 2 to 6 constitute the 3rd largest gadget user demographic. Their minds are very fertile and OckyPocky is leveraging technology to facilitate the exponent growth during the critical foundation years.

The platform uses speech recognition tech, helping people learn English. It uses everyday spoken languages to teach kids. The app leverages the application of NLP and Artificial Intelligence (AI).

The firm has already penetrated well and claims to have got a decent traction on the platform which sums up to over 50 million words learnt. The firm will be using fresh capital in the direction of further enhancing the product through new technologies and boosting their operations.
Ankit Kumar is a Technology Investor & the Managing Partner at Alternative Global, a management consulting firm with offices in India, UK, USA and Israel. He built Alternative Global to be the largest drone & EV consulting firm in India. Ankit is a seasoned consulting professional with deep expertise in international corporate strategy, joint ventures, Mergers & Acquisitions for various industry verticals.
He has been investing primarily in the EV and Drone space over the years. He is also a technology enthusiast with multiple entrepreneurial ventures.
In past, he has helped over 50 MNC's to grow in the domestic market as well as expand into emerging markets such as India & SE Asia. His skill sets include a combination of business advisory, strategy consulting, project implementation and M&A's ensuring successful operations in emerging & developed economies.
Lead Angels
Lead Angels founded by a team originally from IIT Bombay provides end-to-end financial services to promising Indian startups through its angel investing network- for seed funding- Lead Angels Network, advisory services for Pre Series A & series A funding- Lead Advisory, compliance and strategy related services- LA Management & Professional Services-LAMPS and Entrepreneurship Education- Lead Angels Academy.
Lead Angels Network is the only angel network in India that is supported by independent advisory & research, compliance & strategy teams that enable better investment decisions. Lead Angels Academy outreach through its startup education programs attract promising new ideas to the group. The success of its investee companies such as Uno Finance, SmartCoin, Shopkirana, Godesi, SuprDaily, MarketPulse and Consumerex among others more than validate the advantages of this full stack approach to startup investing in India.
🔥246