Nipah Virus (Niv) is an infection disease that can be transmitted to human from animals. This kind of virus found in fruit bats of Pteropodidae.  It was first found in Kampung Sungai Nipah,Malaysia 1998.In 2004, NiV was found in Bangladesh. Now its spreading in india .Kerla is under attack of this virus. Many people are not aware of the name of the virus and its disease. It is transmitting human to human in india. There is no vaccine for either humans or animals. Kerala Health Secretary Rajiv Sadanandan asked people not to panic and said that it can be managed, adding the government has already started their work towards fever deaths. He added there was a similar issue in Bangladesh and it has been managed well.
What are the signs and symptoms of Nipah virus?
Infection with Nipah virus is inflammation of brain indicated by fever, headache, drowsiness, disorientation, mental confusion, comma, potentially death. Symptoms of this infection can cause coma in 48 hours. Some patients have a respiratory illness during the early part of their infections, and half of the patients showing severe neurological signs showed also pulmonary signs.
How is Nipah virus treated? Is there a cure for NiV?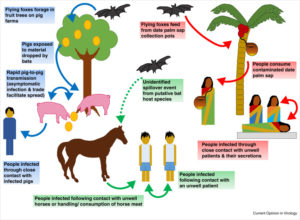 A supportive and helping care is required for virus. It can spread from human to human that's why infection control and proper nursing is required.  Drug ribavirin has been shown to be effective against the viruses in vitro. Clinical usefulness of ribavirin remains uncertain for humans.
Unfortunately there is no vaccine for humans.
How can you prevent getting Nipah virus infection?
Awareness is the medicine to Nipah virus. A study required for pigs and bats regarding Nipah Virus. Avoiding exposure to sick pigs and bats in endemic areas, not drinking raw date palm sap, and not consume fruits that have fallen on to the ground can help prevent Nipah virus infection.
🔥582