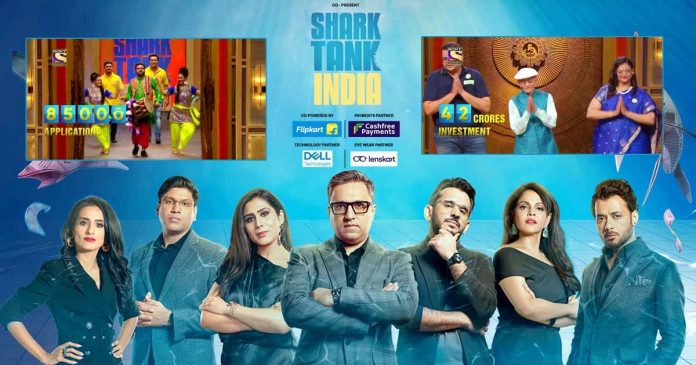 The second season of Shark Tank India is now set to premiere in 2022 following the phenomenal success of Shark Tank India Season 1. The purpose of this article is to highlight popular facts about the reality show as well as how to register for Shark Tank India Season 2.
Registration for Shark Tank India Season 2 has already begun, inviting budding entrepreneurs across the country to pitch their ideas and get the best deals.
Shark Tank India
Shark Tank India is the Indian adaptation of 'Shark Tank', a popular American business reality television series. Shark Tank India premiered on Sony Entertainment Television in December 2021 and aired 35 episodes. The show became an instant hit due to its unique format and the popularization of startup culture in India.
This show allows aspiring entrepreneurs to market their products as well as showcase their business model to investors and national and international audiences. In order to secure investment deals, entrepreneurs prepare and present creative 5-minute pitches to a panel of investors.
Known as sharks, the investors are successful business owners and experts in their respective fields. As a result, these investors provide startup owners with funds and mentorship in exchange for a share of their equity or debt-funding opportunities.
A total of 62,000 businsses registered for Shark Tank India's first season, out of which 198 pitched their innovative ideas and only 67 received investment deals. The total amount invested by the investors in startups was Rs 41.98 crores.
Sharks/Judges:
There were 7 sharks in Shark Tank India's first season, each contributing knowledge, expertise, and financial resources to the startups.
Aman Gupta co-founded boAt along with Sameer Mehta in January 2016. At present, he is the Marketing Director of boAt, which is known for its headphones and earphones.


Anupam Mittal is an actor turned entrepreneur, known as the founder of the matrimonial site Shaadi.com. He is also the founder and CEO of People Group as well as the founder of Makaan.com, Mauj and Mobango.


Ashneer Grover is the co-founder of BharatPe, an Indian fintech company. He co-founded it with Shashvat Nakrani and Bhavik Koladiya in 2018. He is now the former Managing Director of BharatPe.


Ghazal Alagh and her husband Varun Alagh are the co-founders of Mamaearth. Founded in 2016, Mamaearth is India's first toxin-free beauty brand.


Namita Thapar is the Executive Director of Emcure Pharmaceuticals.


Peyush Bansal: He is the co-founder and CEO of Lenskart, an e-commerce portal for eyewear. He has also set up searchmycampus.com and Valyoo Technologies.


Vineeta Singh is the co-founder and CEO of SUGAR Cosmetics, a beauty product brand.


Few Businesses that received funding:
Get-A-Whey: Founded by siblings Jash Shah and Pashmi Shah, along with their mother Jimmy Shah, Get-A-Whey ice cream contains whey protein and has no added sugar. They bagged an investment of Rs 1 crore for 15℅ equity.


Proxgy: Founded in 2020 by Pulkit Ahuja and Inderjit Singh, it is a B2B and B2G startup that makes smart safety helmets. It is a human proxy enabling device. They closed the deal at Rs 1 crore for 10% equity.


AAS Vidyalaya: It is an educational start-up which is claimed to be India's first virtual school. It is run by Vikas and Leena Kakawini with an aim to provide quality education to those who cannot access it due to multiple reasons. Their business bagged the highest deal of Rs 1.5 crore for 15% equity.


Booz: Founded by Rutvij Dasadia, it is an app-based electric scooter startup to ensure sustainable traveling. It is the first of its kind in South Asia. The business received Rs 40 lakhs for 50% equity.
How To Register for Shark Tank India:
Shark Tank India registration for Season 2 has begun, and this is your chance to showcase your business venture.
The registration process involves the following steps:
You can access the application form by downloading/updating the SonyLIV app or by visiting sharktank.sonyliv.com.
Sign up using your phone number.
After signing up, select your preferred language.
Make sure you read the 'Terms and Conditions carefully. Once done, confirm and submit. This is followed by the instructions in written as well as video format.
After reading the instructions, start filling out the form.
Enter your business details such as name, products, etc. Also, mention the desired funding and percentage investment returns. Similarly, answer the following questions.
Finally, fill in personal information of about 250 words.
Once the application form is complete, click on submit to finish the Shark tank India registration process.
Shark Tank India is an excellent opportunity for startup owners who want to scale their businesses and expand their markets but lack the resources to do so.
🔥77