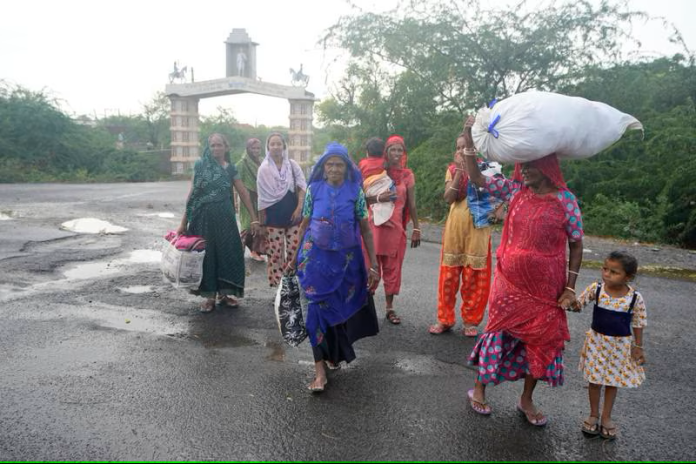 Cyclone Biparjoy: Around 99 trains running through, originating or terminating in Biparjoy-affected areas of Gujarat, will remain cancelled or short-terminated.
Two people died and 22 were injured as cyclonic storm Biparjoy wreaked havoc in Gujarat. uprooting trees, and damaging several vehicles and houses. The cyclone is likely to weaken into a depression this evening over Rajasthan.
Also Read: Did MS Dhoni donate Rs 60 crore to Odisha Train Accident Victims?
Major Updates of Cyclone Biparjoy:
Cyclone Biparjoy is likely to weaken gradually into a cyclonic storm over Gujarat's Saurashtra and Kutch regions around noon, and subsequently into a deep depression around evening, according to India Meteorological Department.
Heavy rain coupled with strong winds by the storm brought down over 524 trees and electric poles at various places in Gujarat, snapping power supply to nearly 1,000 villages, according to state officials. A cattle-rearer and his son died while trying to save their goats stuck in Bhavnagar district.
Extremely heavy rainfall is likely in Rajasthan on June 16 and 17, as the cyclone moves towards the northwest.
Warnings about extensive damage to temporary housing structures and falling of trees and branches due to high-speed winds, high tides and heavy rainfall have already been issued by the weather office.
Earlier in the day, Prime Minister Narendra Modi had a telephonic conversation with Gujarat Chief Minister Bhupendra Patel and took stock of the situation after the cyclonic storm made landfall. PM Modi also asked about the details of the safety arrangements for wild animals, including lions, in Gir Forest.
🔥141