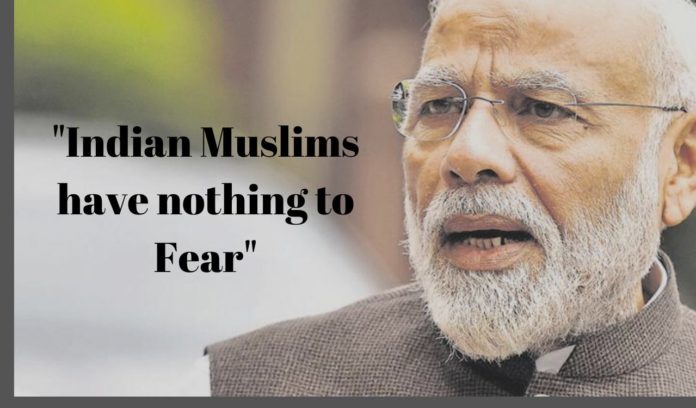 Prime Minister Narendra Modi on Sunday slammed the Congress
The clarification by PM Modi has come more than a week after protests started in the country
PM Modi also clarified that bringing a nationwide NRC was not even discussed in Parliament or union cabinet
Unrest throughout the Nation amidst Protests against NRC-CAA
Whilst protests are taking place all around the country, against NRC-CAA, upheaval has been caused in several areas. Internet services have been  barred in  Jaipur till 8pm as a cautionary measure, due to Congress Party's and Cheif Minister Mr Ashok Gehlot's silent March in Jaipur, the capital, against NRC-CAA, later Sunday, and they will remain suspended in Lucknow, UP till Monday. Internet services have also been shutdown in Sambhal, Meerut, Deoband, PrayagRaj, Gorakhpur, Firozabad and many such cities throughout the state of Uttar Pradesh.  The violent agitations across the state of Uttar Pradesh, have resulted in injuries on both sides.
Almost 265 policemen have been reported injured, while 15 people including a minor have been killed since Thursday. Reports from Bihar ascertain that over 11 people have been injured. Today, around 11:30 a.m. Prime Minister Narendra Modi addressed a mega rally in Ramlila Maidan, Delhi. "Indian Muslims have nothing to fear from NRC. There is no detention centre in India for Muslims. CAA will not affect any Indian citizen. CAA is not for Hindu or Muslims living in this country." Said Prime Minister Modi in the rally. He also urged the protesters throughout the country to not give in to rumours and mentioned that his government is working with the keeping the motto.
"Sabka Sath, Sabka Vikas" in their minds, his policies are religion -neutral. In addition to this, he requested people to respect the decision of Parliament since the bill has been passed through both Rajya Sabha and Lok Sabha and assured no new refugees will get the benefit from CAA. Meanwhile, BJP working chief, JP Nadda has declared that he will lead a CAA support march in Kolkata.
Reports from Mangluru city confirm that the curfew has been lifted, also, city police has named two people killed in police firing on Thursday as accused in the FIR on the violent protest against NRC-CAA. As per the FIR, Jaleel and Nausheen were part of the violent protest against CAA, which was organised by Muslim organisations, as reported.
Meanwhile, huge amount of people marched in South Delhi, to show their solidarity towards Jamia Millia Islamia's students, holding placards that read slogans like  'Hum kagaz nahi dikhayenge (We will not show documents), reject CAA, NRC' and 'Inquilab Zindabad'. Many leading politicians gave gave statements in the support and against NRC-CAA. Samaajwaadi Party Cheif, Akhilesh Yadav, slammed BJP over violence during CAA protests and said the party is "diverting attention from economic slowdown."
🔥546