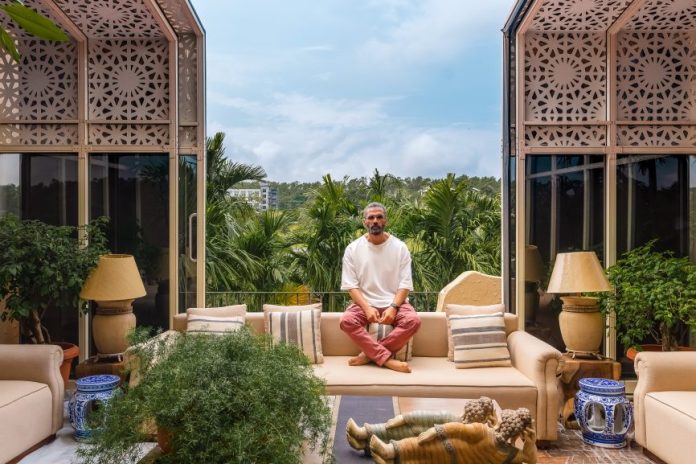 Sunil Shetty Movies have portrayed him as a popular action hero of Indian cinema. He introduced the new era of action films in India with movies like Balwaan, Mohra, Border, Bhai and more. He started off as an action hero and also was a part of comedy movies like Hera Pheri, Gopi Kishan and many more. Anna describes himself as a sportsman at heart, actor by art, humanitarian by virtue, a businessman by default.
Bollywood Superstar Sunil Shetty movies have given himtremendous popularity and is often addressed as 'Anna' by his huge fan base. He has been working in the Bollywood industry for over three decades. Shetty has also acted in Tamil, Malayalam and English language films.
In these years, Sunil Shetty movies have performed exceptionally well as he remained consistently passionate about his work and achieved whatever he thought of. Sunil Shetty lifestyle is what most of the celebrities admire. He prefers spending time at his resort-like property in Khandala nestled amid a lush green atmosphere, and is a testimony of great architecture. 
Sunil Shetty lifestyle is all about productivity and he mentions that he's "getting greedier" while growing older. The actor spends his mornings by performing peaceful activities like Yoga and spending time with family.
He avoids gadgets to keep the mind at peace and leaves home by 9 am for work and he recommends to plan a day in advance get rich dividends
The Filmfare Award-winning actor has acted in over 110 films till now and has also emerged as a celebrity businessman. Till date, Shetty has gathered huge wealth in many ways.
Sunil Shetty movies been awarded and nominated by the most reputed organizations. Besides acting talent and businesses in the hospitality sector, Shetty has made a name for himself in other industries including retail and real estate. Under his production house named Popcorn Entertainment, he has released films like 'Khel – No Ordinary Game' (2003), 'Rakht' (2004) and 'Bhagam Bhag' (2006), among others.
He has also played negative roles in superhit movies, including Dhadkan, Main Hoon Na, Cash, and No Problem. He was also felicitated with numerous awards like, Filmfare Award, Zee Cine Award and much more.
The 61-year-old started his journey in the film industry in 1992. There is much more to his name. Apart from being a renowned, established, celebrity Indian film actor, he is also a Celebrity producer and Smart Speculator (businessman).
Except movies, what are Shetty's source of income?
As an action hero, Shetty started his career with the movie Balwaan (1992) and till date, he is entertaining people with his stupendous acting talent. Anna started his journey as a businessman over a decade ago as he was not getting enough opportunities in movies at that time.
Sunil is a student of hotel management and he entered the hotel business and is famous for his restaurant business in Mumbai. He owns 'Mischief Dining Bar' and a club 'H20', in Mumbai. 'Suzie Wong', his famous floating restaurant was shut down due to the license expiry.
Later, his 'Mischief Dining bar' was shut down the year 2010, and after that, he inaugurated a new restaurant named Little Italy.
Sunil Shetty movies have largely contributed to his wealth. But he also runs production house under the name of Popcorn Entertainment Private Limited. In 2019, the actor invested in a mobile fitness app named 'Fittr', and it became a popular app among fitness freaks. Till date, it has been downloaded over 500,000 times on Android and IOS platforms.
Here if we will talk about Sunil Shetty Business, Anna established started a real-estate company called S2 Reality and Developer Pvt Ltd in 2013. It is a profitable organisation and has sold many homes until now.
The actor also invested in MetaManm, a men's jewellery startup. He also secured funding from Zerodha's Nikhil Kamath, Accel partners' Prashanth Prakash and cricketer KL Rahul.
What does Anna feel about today's start-ups?
Recently, in a lengthy LinkedIn post, the actor addressed his concerns about the global economic crisis, cost-cutting measures, and massive lay-offs. Last year, he debuted on the professional networking platform.
The global economy is a facing downturn due to global uncertainty. Hence, many businesses find it difficult to raise funds, resorting their challenges and slashing operational costs by laying off huge manpower.
Without mentioning the name of the ed-tech company BYJU's in his post, he expressed grief about the massive layoff of 2,500 employees by the company. He said that this decision will affect around 10,000 lives.
The concept of valuations and fundraising have witnessed a surge over the last few years, but the current global sentiment has negatively impacted the economy.
Furthermore, he mentioned that the best time for early-stage and small and mid-sized businesses to improve and go global.
According to him, bootstrapping mindset is a great way to lead businesses. He mentioned businesses rely on cash flow to fund growth, and explore enough ways to optimise cash flow. And investing more than you earn can be done in the later stages of business.
When it comes to business, Anna believes in the long term. He has always mentioned thinking that it's sprint vs marathon. Stable & slow is just great.
Sunil Shetty's Net worth
Being a versatile actor, Shetty has worked with most of the Indian directors and producers. Over the years, his net worth has increased over the years and is calculated at a spectacular $ 10 million.
Except movies, Sunil Shetty gets a decent revenue from ads and brand promotions. As Sunil Shetty movies make good earnings, the star charges around Rs 2-3 Crore per Hindi movie. Except for his businesses, Anna owns a farms house at Khandala. This luxury property was developed by his real-estate company S2 Reality. Also, his world-famous car collection includes Hummer H3, Defender, Rolls Royce, and Mercedes-Benz. He also gets some returns through his share in Aalim Hakim salons in Mumbai.
What's Next?
Till date, Sunil Shetty movies have greatly entertained the public. Now, Anna is all set to mark his digital debut with the web series 'Invisible Woman'. Despite the global uncertainties, the actor said that he strongly believes that India will offer a good opportunity for businesses to grow, even if it's at a slower rate than earlier.
🔥426