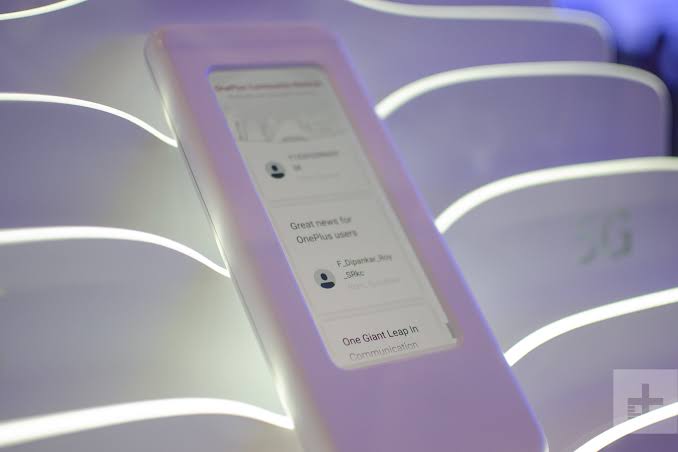 Oneplus 5g launch at MWC 2019
The wait is finally over with the sneak peek to the latest of One plus model that we all were waiting for. In the MWC 2019, finally, the 5g phone model of one plus is out in the open with the prototype. The device consists of Qualcomm Snapdragon 855 SoC power that is then put together with a modem of Snapdragon X50 5G in order to get the best connectivity of 5G phones. However, no one gets the accurate touch of the phone due to its shield that covered everything up. It was surrounded by the large portion of the display at the MWC 2019 demonstration that makes it obscure.
Oneplus 5g release date and announcement
However, there was an announcement about One plus 5g phone in the last year December that states the expected date of launching the phone to be before May 2019. In addition to this, it was also revealed that the total price of the phone will be $300 more than the predecessor model approximately. Even at the start of February, it was revealed that one plus has joined hands with Qualcomm to work on its latest prototype of the 5G smartphone. The phone was unveiled at MWC 2019 to show the working phase and that it will be out soon.
Specifications of Oneplus 5g
However, the prototype was used to demonstrate the whole phone in the event but no major specifications were being told to anyone. The makers have kept any of the specifications of the phone a secret and have not unveiled substantial details even with hardware. In addition to this, no global availability details have been announced yet by the company and its collaboration with carrier apart from the UK and Finland.
Launching of Oneplus 5g
One plus has given the Launching of the phone date for the Finland where it is expected to be in 2019 second quarter with the partnership with Elisa, the Finnish Telecom Service Provider. On top of that, the news is out stating that one plus has joined hands with EE in order to get the launch in the UK as well for their latest model of 5g phones.
As per the reports, the model that was displayed in MWC 2019 was not its previous devices
such as One Plus 7. There were reports that states that 5g connectivity is not a part of whole One plus 7 set up and the company will be coming up with a different phone that can support the overall connectivity. In addition to this, the one plus 7 images were leaked as well that shows a pop-up selfie along with a notch-less design. But there was no concrete news about it online that waves off the whole information. Apart from this, many other brands showcase their 5g phone such as Xiaomi, LG, etc.
🔥205