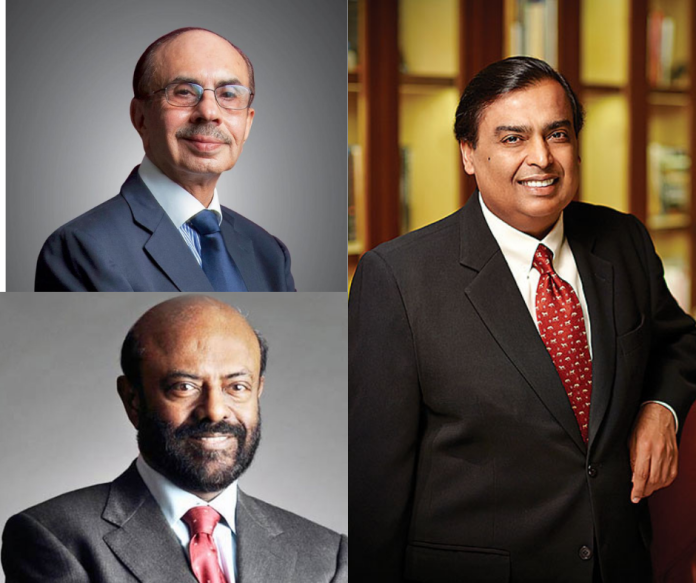 India has witnessed an incredible surge in self-made billionaires in recent years. These remarkable individuals have scaled the heights of wealth through their sheer determination, innovation, and hard work. In this blog, we'll take a closer look at the top 10 Self-Made Billionaires, providing insights into their net worth and the industries that catapulted them to financial stardom.
1. Mukesh Ambani
Net Worth: Over $100 billion
Mukesh Ambani, the chairman and largest shareholder of Reliance Industries, is India's richest self-made billionaire. His diversified empire includes petrochemicals, refining, telecommunications, and retail. Ambani's vision and leadership have made him a formidable figure in both the Indian and global business landscapes.
2. Gautam Adani
Net Worth: Over $90 billion
Gautam Adani, the chairman of the Adani Group, has grown his fortune substantially in recent years. His businesses span across ports, logistics, power generation, and transmission. Adani's ambitious plans for renewable energy and infrastructure development have propelled him into the upper echelons of Indian wealth.
3. Shiv Nadar
Net Worth: Over $30 billion
Shiv Nadar is the co-founder and chairman of HCL Technologies, a leading IT services company. His journey from a small business to a tech giant is a testament to his vision and dedication. Nadar's philanthropic initiatives, including the Shiv Nadar Foundation, have made a significant impact on education and healthcare in India.
4. Cyrus Poonawalla
Net Worth: Over $22 billion
Cyrus Poonawalla, the founder and chairman of Serum Institute of India, is a key figure in the global vaccine industry. His company is renowned for producing vaccines at a large scale, including those critical for immunization programs in India and across the world. He is one of the top 10 self-made billionaires.
5. Lakshmi Mittal
Net Worth: Over $18 billion
Lakshmi Mittal is the chairman and CEO of ArcelorMittal, the world's largest steel and mining company. While he's based in the United Kingdom, Mittal's Indian roots and global steel empire have secured his place among India's wealthiest self-made billionaires.
6. Savitri Jindal
Net Worth: Over $16 billion
Savitri Jindal is the non-executive chairperson of the O.P. Jindal Group, one of the largest steel producers in India. After her husband's passing, she assumed a leading role in managing the family's business and wealth. Her success as a woman in a male-dominated industry is a remarkable story of resilience.
7. Pallonji Mistry
Net Worth: Over $15 billion
Pallonji Mistry, an Irish citizen of Indian origin, is the chairman of the Shapoorji Pallonji Group. The conglomerate has interests in construction, real estate, infrastructure, and more. Mistry's substantial wealth and diversified business portfolio have secured his place among India's top billionaires.
8. Adi Godrej
Net Worth: Over $12 billion
Adi Godrej, the chairman of the Godrej Group, has played a pivotal role in the growth of the family conglomerate, with interests in consumer goods, real estate, and agriculture. His contributions to the Indian business landscape are well-recognized.
9. Cyrus Mistry
Net Worth: Over $12 billion
Cyrus Mistry, a former chairman of Tata Sons, was a significant figure in the Tata Group before a highly publicized and contentious departure. He is one of the top 10 self-made billionaires. While he no longer holds this position, Mistry's influence on the Tata empire remains notable.
10. Anil Agarwal
Net Worth: Over $6 billion
Anil Agarwal is the founder and chairman of Vedanta Resources, a globally diversified natural resources company with interests in metals and mining, oil and gas, and power. Agarwal's journey from a small scrap metal dealer to heading a global conglomerate is a remarkable story of entrepreneurial success. Under his leadership, Vedanta has expanded its operations across various countries and has made significant investments in India's natural resources sector. Agarwal's business acumen and his commitment to sustainable practices have made him a noteworthy figure in India's entrepreneurial landscape.
The rise of self-made Indian billionaires showcases the country's growing influence on the global economic stage. These individuals have not only amassed incredible wealth but have also played pivotal roles in shaping India's industrial landscape. Their stories of determination, innovation, and success continue to inspire aspiring entrepreneurs and business leaders across the nation.
🔥98