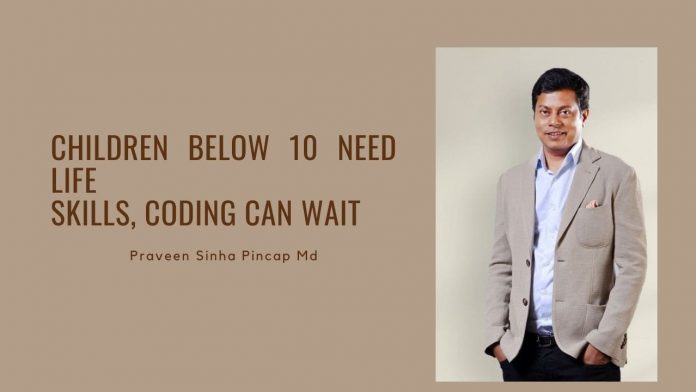 Unless you have been living in a bubble devoid of any communication, it has been hard to avoid the huge marketing blitz unleashed by edtech startups like WhiteHat Jr, Coding Ninjas etc. Following closely on the heels of Byju's, these startups are trying to push a new category as a necessity for the child of tomorrow and have successfully created a lot of buzz around their respective brands, says Praveen Sinha Pincap MD. Since the marketing campaigns began around 4 million children signed up for the demo classes on Whitehat Jr, and 1.8 million signed up for the platform. "65% of these children are from outside India's top 15 cities", adds Karan Bajaj, Founder, WhiteHat Jr.
Does learning coding early guarantee a future?
With the rapid rise of internet penetration and subsequent growth of products in the online space, a lot of us would have to agree that those who are into software and coding could potentially have an edge over others in the years ahead. However, every year India produces around 15 Lakh Software Engineers and around 30% of them don't get employed as software engineers. Several of them end up at jobs which they do not enjoy or are not compensated enough for and only a few get the dream life and 6-7 figure pay brackets they wished for. With the United States continuing to make their labour laws restrictive, the once lucrative US job market is likely to be more out of reach for the next generation. "It is the job of marketers to sell a dream and these ads have done just that over the last couple of months. However, there are realities that the market is going through at present and every parent needs to look beyond an advertisement to decide the futures of their children. If a child shows a natural inclination towards computers and software at an early age, then they should be encouraged but upto a certain age I personally would prefer children to take their own time to explore things in life", feels Sinha. "One could also argue here that introducing a child too early to coding concepts could actually create a fear in their minds similar to how some children develop a fear of math at a young age. If coding can be simplified and made fun for children, then there is a definite merit for the concept since it is inevitable that coders and software engineers will definitely have a huge role to play in the future. However, this current trend seems to be a classic case of FOMO, created by indulgent ad spends. I don't think a child forced to sit and listen to someone through a laptop or a tablet to learn coding is the correct way to pick up this skill, especially at a tender age when the child should be active in games and sport, dance, music, art and other similar interests. Recently, the NEP also proposed the introduction of coding for children aged 12 years onwards, which is probably a more optimum age for children to start comprehending the basics of coding", added Praveen Sinha.
Conclusion
"At its basic definition, coding is using computer language to create or bring a creative vision to life digitally. Hence, before children learn to use these languages to create products and services that could potentially change the future they need to develop life skills like creative and critical thinking, teamwork, communication, networking, focus and patience amongst others. These life skills can only be learnt in the real world and no app on the phone can simulate the challenges that life throws at us", concludes Sinha.
🔥264