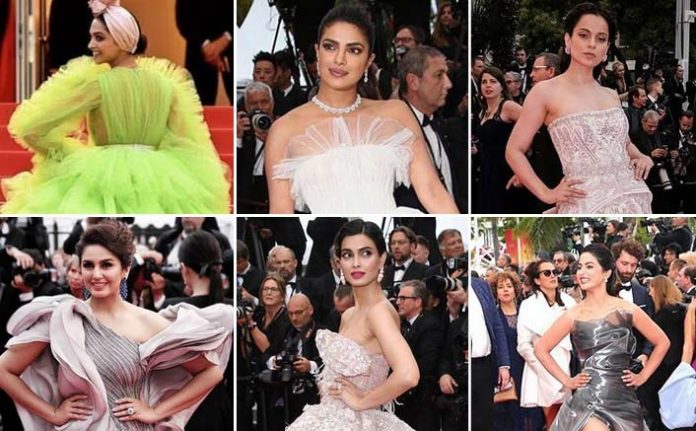 One of the most famous red-carpet festival for Hollywood or Bollywood stars that kept everyone on toes – Cannes – is all set to show off their talent. This 11-days festival includes celebrities walking on the red carpet in front of fans and paparazzi in different outfits along the French Riviera.
Cannes 2019 is the 72nd edition of the Cannes festival. On an opening day, we witnessed some of the most famous faces such as Salena Gomez, Tilda Swinton, Elle Fanning, Juliana Moore, Eva Longoria, etc. Even the gown included the topmost and trending fashion statement with high-slit, capes, etc. that sweeps the carpet. If anything, the show was a perfect mix of fashion, trend,and cinephile.
There were so many celebrities like Margot Robbie, Chloe Sevigny and Selena Gomez made a grand debut at the event. Whereas, the youngest jury member seat was occupied by none other than Ellie Fanning.
Well, if things are moving at such pace then how come Bollywood diva not make a grand entrance to it. Aishwarya Rai Bachchan, Deepika Padukone, Kangana Ranaut, Sonam Kapoor, Malika Sherawat, Hina Khan and Daina Penty will also grace the red carpet with their presence at Cannes.
Keeping this aside, let us give you the names of best-dressed celebrities that stole the show on the first day of Cannes.
Elle Fanning looks amazing well with the Valentino dress that gives her a different grace and style to showcase. However, Amber Head was not far behind the race with her sheer and sequined dress that is matched up with Chopard Jewelry. With the simple look of a strapless dress with velvet fabric, Tina Kunany stole so many hearts. Just like her bright yellowish mood, Eva Longoria was all set with her yellow dress.
Bollywood Diva's Cannes 2019 Looks
Lets have a look on the trending Bollywood celebrity Priyanka Chopra.She is the most popular and loving Indian Celebrity in US.Nick Jonas and Priyanka Chopra are giving major couple goals.Lets have a look on Priyanka Chopra's Red Carpet 2019 look
View this post on Instagram
View this post on Instagram
Surprise entry of Hina Khan was like cherry on the top.She was here to inaugurate her movie "Lines".Her first appearance in Cannes 2019 was impressive and stylish.The actress is known as style diva.In las season of Big Boss Hina was talk of the town.
View this post on Instagram
🔥756