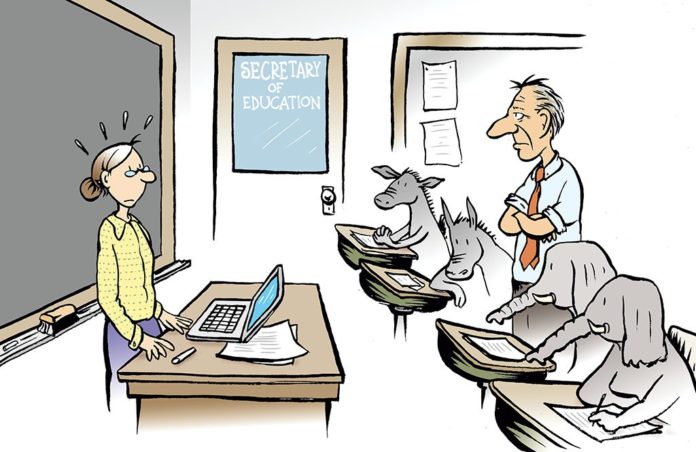 'Education is the most powerful weapon which you can use to change the world.' Nelson Mandela gave this famous learning in 2003. Today in 2019, this learning has the same significance. Education is a critical investment that we make to reap benefits in the long run. It is the cue to eradicate gender discrimination, reduce poverty, prevent illness, build a sustainable planet and foster harmony. But let's look at the ground reality of the quality and status of education in the country. The latest Annual Status of Education Report 2018 (Rural) or AESR 2018 shows a clear mirror to a country that is claiming to be a hub of knowledge and talent.
Current issues with education in India
The AESR 2018 report collected data from 596 districts in India and showed the learning deficit faced by our next generation. Below are some findings presenting a dismal picture of education in India.
The basic mathematics abilities of students in class 8th continue to decrease slowly. This can be understood with the finding that says that only a meager 44.1% of class 8th students in government schools can do simple division. The figure improves to a small 54.2% in private schools.
Reading potential of class 8th students have taken a downward nosedive. While in 2008, 84.4% of students in class 8th were able to read at least class 2nd textbooks, in 2018, it has plunged down to 72.8%. This is certainly not a good example of #10YearChallenge!
Less than 30% of the students in class 3rd can read a class 2nd text and solve a double-digit subtraction.
This dismal outcome in the education sector is despite the Right to Education (RTE) Act that is making compulsory education for children between the age of 6 to 14 years. There are other initiatives like 'Pade Bharat Badhe Bharat', 'BetiBachaoBetiPadhao', 'UDAAN' etc. But unfortunately, all these efforts are not translating into substantial learning, raising doubts about the precedence of Central and State Governments.
Smart education is the need of hours
This is one aspect of the situation. The other aspect calls for offering a sustainable and practical solution to the bridge the learning deficit in the country. At a time when the world where we live is transforming itself by 'smart' technology, the education sector can derive the benefits from smart digital practices. Technology in the classrooms does not necessarily translate into the presence of digital devices. It includes using technology to improve effectiveness and engagement in the classrooms. Adopting smart digital technology-based learning and teaching techniques can combat various pitfalls that need an urgent confrontation. With that in mind, there are reasons that elaborate a 21st-century view of effective, collaborative and competent learning.
Read: Why is student suicide ration increasing in India?
 How to improve the education system in India?
Using technology as a tool in the classroom would allow the teacher to experiment in the pedagogy and get instant feedback on the same. It would make the classroom teaching more interesting, engaging and credible, rather than a burden.
Smart use of technology would ensure cent percent participation, which is a grey area in the regular mode of classroom learning.
Access to multifarious apps and e-books can make learning more effective, likable and fun. These resources can indeed transform the classroom, thereby providing knowledge and information.
We live in a smart, digital world where usage of technology is a life skill. Adding smart education and technology in the formative years of education can instill a deeper level of understanding about the digital world, where it is important to distinguish between authentic from unreliable sources of information on the internet. Digitally trained students do stand a better prospect to face modernized tools in the marketplace because of their exposure to these at a young age, making them sharper and brighter.
Using technology as a mode of imparting knowledge can open new doorways to new experiences, new pioneering and new routes of understanding, collaboration, and training. Education, today, deserves a digital overhaul to get better and relevant ROI in the future.
🔥685