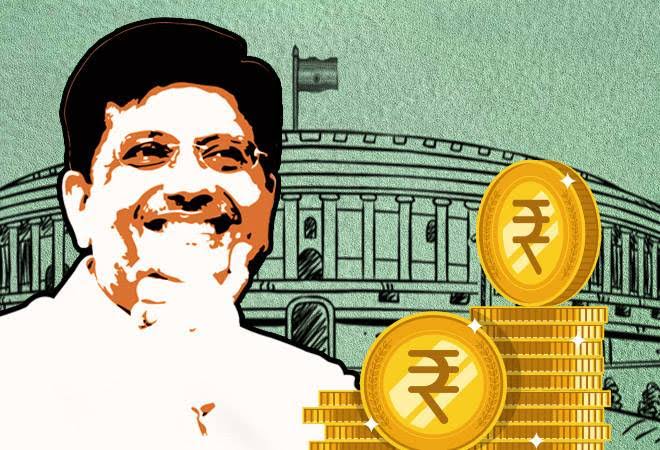 Interim Finance Minister Piyush Goyal on Friday presented 'Interim Budget 2019′ ahead of Lok Sabha 2019. Goyal keeping in mind that the Polls declared massive sops for all classes such as Farmers, taxpayers, youths, etc. Finance Minister made some statements including increasing tax rebate up to five lakhs income, Rs 6,000 to Farmers annual to double their earnings by 2022, and others.
Here are the highlights of Interim Budget
. Starting his Budget Speech while acknowledging the lack of Arun Jaitley, he kicked his Budget Speech off using an announcement on reforms of Banking Sector. The inflation was controlled, stated FM Piyush Goyal while mentioning December 2018 Inflation rate at 2.19 %. He explained Fiscal Deficit was brought down and FDI policies revised.
Income Tax reliefs:
 No tax for those whose taxable income is less than Rs 5 lakh
 Standard deduction increased to Rs 50,000 from Rs 40,000 for salaried class Tax exemptions on investments:
 Individuals with gross income up to 6.5 lakh rupees will not need to pay any tax if they make investments in provident funds and prescribed equities
Other tax related reliefs:
 Income Tax returns to be processed within 24 hours and refunds will be paid immediately
 Within nearly two years, almost all assessment and verification of IT returns will be done electronically by an anonymized tax system without any intervention by officials
For farmers:
Rs 6,000 per year assured income support for small and marginal farmers
 Farmers having up to 2 hectare of lands will get Rs 6,000 per year in three equal instalment. The scheme will be effective from December 1, 2018.
Interest subvention for farm loan takers: Farmers affected by natural calamities to get 2% interest subvention and additional 3% interest subvention upon timely repayment *
2% interest subvention to farmers who pursue animal husbandry, fisheries jobs through Kisaan credit cards
 Kamdhenu scheme for animal husbandry
GST:
Group of Ministers to suggest ways to reduce GST for house buyers
Direct tax collections increased from Rs 6.38 lakh crore in 2013-14 to almost Rs 12 lakh crore; The tax base is up from Rs 3.79 crore to 6.85 crore
Businesses with less than Rs 5 crore annual turnover, comprising over 90% of GST payers, will be allowed to file quarterly returns
 Indian Customs to fully digitised exim transactions and leverage RFID for logistic. Govt abolishes duties .
Sops for workers:
* Rs 3,000 per year pension for unorganised sector workers
* New Pradhan Mantri Shram Yogi Maandhan Yojana for unorganised sector workers with income up to Rs 15,000 per month. Beneficiaries will get Rs 3,000 per month pension with a contribution of Rs 100 per month after retirement. Govt allocates Rs 500 crore for the scheme
 Gratuity limit increased for workers to Rs 30 lakh.
Rs 60,000 crore for rural development.
Rs 19,000 allocated for construction of rural roads under Gram Sadak yojana
Defence Budget:
 Govt increases defence budget to over Rs 3 lakh crore. Govt will provide additional funds for Defence, if needed.
 We have disbursed 35,000 crore rupees under #OROP scheme in the last few years
Railways:
Railway's operating ratio seen 96.2% in FY19 Vs 95% FY20.
Railway capex for FY20 set at record Rs 1.6 lakh crore
Fiscal Deficit:
 For FY19, government has revised the fiscal deficit target to 3.4 percent in FY 19. Fiscal deficit for 2019/20 estimated at 3.4 percent of GDP.
Government's stated commitment earlier was to bring down the fiscal deficit to 3.1 percent of GDP by the end of March 2020, and to 3 percent by March 2021
Current account deficit at 2.5% of the GDP
Social schemes:
Govt to build 1 lakh digital villages
For the welfare of farmers and for doubling their income, historic decision was taken to increase MSP by 1.5 times the production cost for all 22 crops
To ensure cleaner fuel and health assurance, we embarked upon Pradhan Mantri Ujjwala Yojana, a programme to give 8 crore free LPG connections to rural households, 6 crore connections have been given already
 Committee under NITI Aayog to be set up for denotifed nomadic & semi nomadic communities
State of Economy:
India is poised to become a $5 trillion economy in next 5 years, $10-trillion economy in the next eight years
Black money: Committed to eliminating the scourge of black money; anti-black money measures taken have brought an undisclosed income of about 1.30 lakh crore rupees to the fore; 3.38 lakh shell companies were deregistered
🔥517