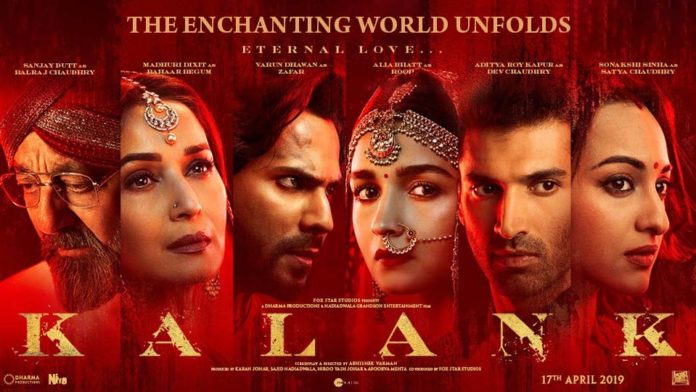 The Kalank poster is something that everyone was waiting for since the announcement of thefilm. In the movie, there is an amazing look of Varun Dhawan was as per the description is a flirt for danger and life. In this film, under the production house of Karan Johar, Varun is playing the role of Zafar as the Kalank cast. The intense looked of the star has made us all in awe of him and his skills.
Presenting @Varun_dvn as Zafar! He flirts with life and danger! #MenOfKalank #Kalank
@duttsanjay #AdityaRoyKapur @aliaa08 @sonakshisinha @MadhuriDixit @abhivarman #SajidNadiadwala @apoorvamehta18 @foxstarhindi @DharmaMovies @NGEMovies pic.twitter.com/FakpffMi9Z

— Karan Johar (@karanjohar) March 7, 2019
From the amazing and most talented cast of the movie, the director and producers introduce Varun poster that is followed by the others. However, the #MenOfKalank hashtag become even more popular with the involvement of Sanjay Dutt and Aditya Roy Kapur. Apart form this, the cast also includes the leading ladies of Bollywood Sonakshi Sinha, Alia Bhatt and the dynamic Madhuri Dixit.
Enchanting, ethereal & timeless. The true 'Begum' of hearts, Bahaar! @MadhuriDixit #WomenOfKalank #Kalank@duttsanjay #AdityaRoyKapur @Varun_dvn @aliaa08 @sonakshisinha @abhivarman @apoorvamehta18 #SajidNadiadwala @ipritamofficial @foxstarhindi @DharmaMovies @NGEMovies pic.twitter.com/pNCC2StQM9

— Karan Johar (@karanjohar) March 8, 2019
Kalank Storyline
The overall Kalank storyline is as per the last film that was Yash Johar, Karan Johar's, father last film. The movie will revolve around the turbulent relationships that shows the dynamics of relationship and voice that is found by eternal love. In addition to this, Karan shared a small picture that can be considered as the still form the movie.
Kalank Movie Trailer
The movie will be released in 2019 April. In addition to this, the Kalank movie trailer will be out soon. Every actor then followed the sharing of the picture in which Varun and Alia are playing the leading roles. The movie is in the era of 1940s with an amazing outset. However, the exact amount is not out but the Kalank budget is heavy with big stars and locations. No official dates of the trailer are out yet.
🔥2.1 K