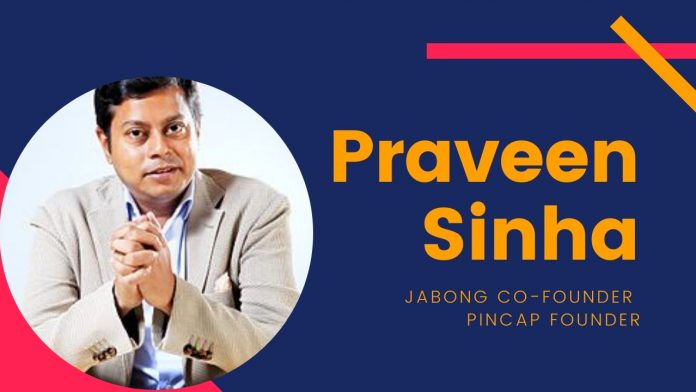 Based on excerpts from the book 'From Entrepreneur to Market Creator'
Praveen Sinha, MD Pincap Capital and the founder of Jabong.com has one of the most interesting start-up stories in India's brief start-up history. The following story aims to capture the inspirations, struggles and successes he had during his journey to the top.
Humble Beginnings
Praveen started his entrepreneurial journey way back in 2005 when he was still working with Maruti Suzuki. Praveen worked on a prototype to handle water management for overhead tanks. This was a time when there were no VCs or seed funding and it was difficult to raise funds for projects. Praveen sold his personal car to fund the project. While, his colleagues were really excited to try out the product, the market back then was not receptive to try a new brand. The response to his product back then was lukewarm. To make the proposition more enticing, Praveen decided to offer attractive payment schemes to the end consumer. He also realized that one product variant was not going to work for every consumer as the set up of houses were different, which led to him going back to the design table to work on a larger product shelf and different variants. This project later became Aquabrim Pvt. Ltd and today serves several residential and institutional clients like the Indian Railways.
The tryst with fashion
On being asked why he chose fashion as a start-up idea, Praveen responded that the rationale to choose fashion was always clear. "As soon as the Indian start-up culture started getting traction, I knew that we are going to see a large inflow of money from multinational corporations, vying to grab their slice of the pie. While sectors like the smartphone industry had just 2-3 brands controlling the market, in fashion you could have hundreds of brands in the space and this for me was an ideal scenario for an e-tailing business. When we launched our first TVC, we received such a huge inflow of orders, that our operation chain was overwhelmed. The rule of the game suggested that we needed to stop marketing and get our operations in order. However, we decided to continue the aggressive marketing push and kept building the operations parallelly without compromising on service level. That was an achievement in itself and we became case study for many e-com start-us globally. We could achieve that as we were not only process driven but also because our team was driven by the motive to become the leader in the space and hence, we could not afford to slow down at any cost", said Praveen Sinha Jabong Co-founder .
Praveen Sinha's thoughts on Entrepreneurship
"I knew I was going to enjoy being an entrepreneur very early on in my life. I get a kick out of challenges, when people say something can bring lot of value but its almost difficult to execute, If the idea convinces me I want to take it up. I have always loved creating solutions to human challenges and I know that this will keep driving me for the rest of my life. The thing I enjoy most about entrepreneurship is the freedom. You don't need anyone's endorsement for your thoughts and feelings. You can address your priorities, the way you want, with your own free will", he concluded.
Why aren't Indians creating unique start-up ideas?
Praveen feels that Indian entrepreneurs play it safe by creating forks of already successful ideas because the investors are largely from abroad and they are more likely to invest in businesses they understand. "I am sure an Indian entrepreneur can build a car that is pothole resistant, but will it have a demand in a developed market like the United States, where roads have no potholes? The entrepreneurial ecosystem in developed nations has matured to a stage where they are now innovating far beyond our reach. Our ecosystem is still nascent and will mature when a significant portion of the service class move to the entrepreneurial ecosystem.
Thoughts on Growth vs Profitability
"My take on the growth vs profitability is as simple as it gets. An enterprise is valuable if it generates profits. Secondly, it is very valuable if it generates profits and at the same time manages to grow. The rest are all fantasies or based on strong marketing and branding skills", concludes Praveen Sinha Pincap Md.
What makes a great start-up?
"A great start-up is built by the people who work in it and want to build something that they would be proud of", says Praveen. "I have been lucky that I have always been working with people who were passionate and driven by the idea of tackling challenges. The team is the key ingredient of a start-up recipe and no amount of money can help create a successful enterprise if you don't have the right team to lead the business", he concludes.
🔥276