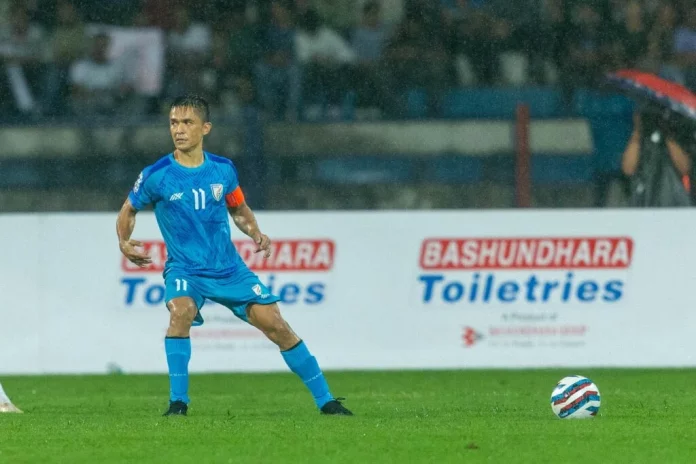 Sunil Chhetri holds high expectations for the Indian Football Team as they gear up for the AFC Asian Cup 2023 and World Cup 2026 qualifiers.
The Indian football team clinched their ninth SAFF Championship title with a penalty shootout victory over Kuwait. Sunil Chhetri, the inspirational captain, led the team to triumph. As the nation celebrates, Chhetri emphasizes that it's just the beginning, with the AFC Asian Cup 2023 and World Cup 2026 approaching.
Sunil Chhetri has backed his coach Igor Stimac's request for a lengthy preparation camp before key competitions like the Asian Cup. Stimac has emphasised the need of a four-week camp in order to effectively prepare the squad for the continental tournament, which includes tough opponents like as Australia, Iran, and Uzbekistan. The Asian Cup 2024 will be held in Doha from January to February. "We are going to face Australia, Uzbekistan and Syria in the Asian Cup (group matches), that is why Stimac (as well as goalkeeper Gurpreet Singh Sandhu) have spoken about long camps. We need it and I really hope we get it," Chhetri said.
"Technically and tactically, we are not there yet with the top teams in Asia, and we have no qualms accepting that. But to fight and be strong, we will not negotiate. That is very simple stuff, and everyone can achieve [that]…to have a certain level of fitness and be strong—to go and head; to go and smash; to go and fight," Chhetri added emphasizing on the need of the preparatory camp. In recent weeks, the Indian football team has played against Lebanon and Kuwait multiple times. However, Sunil Chhetri, the captain, feels that the team should face tougher opponents to gauge their true standing before taking on formidable teams like Australia.
While Chhetri acknowledges that the decision is not up to him, the 38-year-old expressed his preference for the teams he would like to compete against before the prestigious tournament. "It will also be great if we can get one of the top 7 teams in Asia to play a friendly. Now, this is completely my wish and hope, and I'm not going to say anything because the coach decides who we're going to play. "
"If we get an Iran or a Japan or a Saudi to play a match (with us) before Australia, that'll give us a very good picture and we'll be ready. A little bit more ready than we will be if we do not play those top teams. So, that's the plan and that's why the four weeks is important.
" Emphasizing again the need of a a long preparatory camp Chhetri added, "If we only get 5 days, let's suppose, then we won't be able to organize that one important friendly. When we play against Iraq in a month's time, we'll get an idea of how Uzbekistan is because they are similar teams. "
"When we played against Lebanon and Kuwait, we got an idea of how Syria is going to be, although Syria is going to be at a level little bit higher than these two teams."
Igor Stimac, the coach, emphasized the need for India to bridge the gap with their competitors and act swiftly. He stated that the team is not in touch with reality. Stimac stressed the importance of giving the players sufficient time to prepare. Sunil Chhetri, the Bengaluru FC player, expressed his views on the matter. Chhetri discussed the significance of having a few extra weeks together as a team. He compared it to the limited five-day preparation they might have.
"Now eventually how much time we get depends on all the talks. I really hope we get as much time as possible because what happens is when we go to the camp, there are injuries, and all the players come from different mentalities from the club."
"That has to be taken care of. And after all these things, we need good friendlies. Hopefully two or three important matches. And out of those 2-3 important matches, if we can get a top Asian team, that'll be really important for our preparation." Chhetri concluded.
The Indian National Team aims to build upon their recent performances and carry strong form into the AFC Asian Cup in January. Their next assignments include the King's Cup in Thailand in September and Malaysia's Merdeka Cup in October. In the November-December international window.
India will participate in the FIFA World Cup 2026 Qualifiers against various opponents. Afterwards, they will face tough challenges against Australia, Uzbekistan, and Syria. However, Sunil Chhetri and his team are eagerly prepared for the upcoming matches.
🔥119